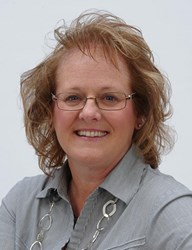 Perrysburg, OH (PRWEB) September 18, 2013
St. Clare Commons, the new senior living community opening in Perrysburg next month, announced that in addition to working with the Catholic Diocese of Toledo, Blessed John XXIII, Dr. Anu Garg of UTMC, the Alzheimer's Association, Dr. Govind Barwhani of Wright State University and many others, new team members have been added to the Wellness Team:

Dana Larson, RN, as Director of Clinical Services
Jason Dittus, Director of Environmental Services
Sister Diana Lynn Eckel, Director of Mission Integration
Sister Joy Barker, Director of Pastoral Care
Dana Larson, Director of Clinical Services, has an extensive background in nursing for long term care, pediatrics, neonatal ICU, and pulmonary medicine. Her greatest love is pediatrics and gerontology, as children and the elderly both depend on the human element to provide the loving care that they so deserve. Dana has relocated to Perrysburg from Springfield, Illinois, where she and her husband, Jeff, have raised their son, Logan, who will be attending BGSU on a Football Scholarship in the fall.
Jason Dittus, Director of Environmental Services, has nearly 20 years of experience in service excellence from research to pastoral care to facilities management. Jason graduated from BGSU with a Master's Degree in Molecular Genetics and performed biomedical research at the University of Toledo Medical Center. He then spent 10 years in vocational ministry where he helped to oversee operations of multiple church complexes. He enjoys leading teams of employees and volunteers. His passion lies with serving others and spending time with his wife Amy and their two children, Matthew and Meghan.
Sister Diana Lynn Eckel, Director of Mission Integration, is joining St. Clare Commons soon. She will be responsible for promoting mission and core values to employees and residents. She has been a Franciscan Sister for 50 years and previously served as Congregational Minister for the Sisters of St. Francis of Sylvania. With rich and varied experiences in education and positions of leadership, Sr. Diana Lynn will be a valued member of the leadership team of St. Clare Commons.
Sr. Joy Barker, Director of Pastoral Care, has been a Sister of St. Francis since 1961 and brings an array of experiences with her to St. Clare Commons. She served as Chaplain with Hospice for a year during her Clinical Pastoral Education as well as providing Chaplain services to St. Anne's Hospital. She served as Pastoral Associate in parishes around the Diocese for 17 years. During those years she visited the sick, the elderly and shut-ins of the parish in their own homes, at care centers or Hospice. She sponsored Days of Reflection for seniors. For the past year and a half, she worked as a Chaplain with the Adrian Dominicans Sisters in their long term care community.
True to the teachings of St. Clare of Assisi and St. Francis of Assisi, the team believes it is not necessarily age nor health that defines the value of a person but appreciating God and each other where they are found today, striving for a better future together, and finding simple understandings.
The first phase of St. Clare Commons will offer studio, one-, and two-bedroom Assisted Living apartments, a secure area featuring efficiency homes specializing in dementia care, beautifully appointed short term nursing care suites, as well as a chapel, state-of-the-art therapy lab, fountains, rooftop terraces, piano lounge, community education space, and many connections to Blessed John XXIII and the greater Toledo area.
More than 100 families have expressed an interest in one of these ares for themselves or a loved one. Move-in reservations are still being accepted. To learn more, visit stclarecommons.org.
####
REVERENCE SERVICE STEWARDSHIP
St. Clare Commons is a member organization of Franciscan Living Communities (FLC). FLC is a division of Sylvania Franciscan Health, sponsored by the Sisters of St. Francis of Sylvania, Ohio. FLC is a mission driven, industry leading provider of senior living services throughout Ohio and Kentucky. The organization offers continuum of care options including independent living, assisted living, skilled nursing, rehabilitation, memory care, senior housing, and home health services. To learn more please visit http://www.flcsylvania.org.