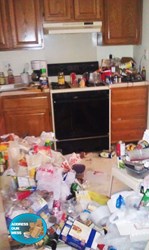 Understanding what is being hoarded and why will not only help the hoarder clean their home, it will help them come to terms with the traumatic event that caused their condition in the first place.
Mount Laurel, NJ (PRWEB) September 18, 2013
Hoarding can be an overwhelming condition to understand and come to grips with. In order for a hoarder to find the proper help, and in order for helpers to fully understand how to offer the assistance they want to give, the type of hoarding situation must be identified first and foremost. Once a helper is able to understand what is being hoarded and why, a successful plan of action can be put into place which will help the hoarder regain their living space.
Address Our Mess, a leading expert in the hoarding cleanup community, has published a series of guides designed to assist hoarders and their helpers with understanding the condition while determining the best course of action so that the hoarder can begin living a healthier lifestyle. Their latest guide, Types of Hoarding, offers a unique look into the different realms of the hoarding condition.
Types of Hoarding
A person hoards a particular type of item because they become emotionally attached to it. While some may never understand why another human being can grow an emotional attachment to a rotting piece of garbage, for hoarders the connection is very real and very serious. In almost all cases, hoarding begins after a traumatic event has seriously altered a person's life. Understanding what is being hoarded and why will not only help the hoarder clean their home, it will help them come to terms with the traumatic event that caused their condition in the first place.
Shopper or Shopping Hoarding
Compulsive shoppers may purchase an overabundance of food, clothing, electronics, or other items -even if large quantities of these items already exist in the home. Items will then be piled and stacked into large mounds, sometimes with price tags still on them, sitting unused in what should be their living space.
Just like with any other traumatic event that leaves an emptiness in a person, shopping hoarders are likely have experienced a similar event. They use the rush of shopping for new items to replace the feelings of happiness and excitement in their lives. The items they purchase not only fill space in their home, but fill an invisible void in their hearts and minds caused by the traumatic event they experienced.
Address Our Mess explains, "Clutter cleanup is essential due to the fact that hoarding large quantities of any item is a danger in and of itself. However, when hoarding food or chemicals, the dangers increase exponentially. Hoarding chemicals increases the chance of fire and explosion in the home. Food hoarding is a different animal altogether."
Food Hoarding
One of the most confusing hoarding questions is, "Why would people hoard food?" The major issue in regards to food hoarding is waste. These items sit untouched in the fridge until new items are piled over top of them. The longer an item sits, the less likely it is used and eaten. In time, hundreds of pounds of food lay rotting in hoarders' refrigerators and cupboards, attracting insects and vermin who carry a plethora of bacteria, viruses, and parasites.
Garbage and Trash Hoarding
Garbage hoarding cases are amongst the most foul. Entire rooms are filled with rotting food, empty containers, soiled items, and even bio-hazardous materials like bodily fluids and waste. While some garbage hoarders may keep their garbage confined in trash bags, others simply throw their rubbish into an ever-growing pile that spills out into various rooms in the home.
According to Types of Hoarding, "Rodents, vermin, and pests will become attracted to the garbage and wreak havoc on the home's structure and the health of its inhabitants. Insects and animals will dismantle a home in order to make nests for themselves. They will leave behind their own urine and feces while searching for food in the piles of garbage. These pests will also carry a variety of diseases with them. Should a human being be exposed to these bacteria, viruses, or parasites, serious illness or death can occur."
Animal Hoarding
Animal hoarding presents dangers not only to hoarders and their families, but to the animals themselves. Animal hoarders are some of the most misunderstood sufferers of this complex condition. To many, hoarding animals is the same as cruelly mistreating them. Animal hoarding cleanup providers have found that hoarders are simply trying to share their love for pets with as many animals as they can.
Animals must be given a space to thrive and grow in a healthy way. Animals in hoarding situations can become very territorial, especially when it comes to fighting for the limited amounts of food they will likely receive.
Failure to properly maintain the daily routine of pets, such as where they use the bathroom or providing a space to properly exercise and groom themselves, will cause an abundance of health and biohazard issues.
Paper Hoarding
In an age where privacy protection is critical in the fight against identity theft, many households have designated a place for mail to be stored before it is shredded or incinerated. Most municipalities even host town-wide shredding events where families can bring boxes upon boxes of bills, invoices, credit card offers, and other paper items to be safely destroyed.
While it may be the right thing to hang on to these papers until they can be properly disposed of, paper hoarders approach the idea from a whole different frame of mind.
Types of Hoarding explains, "These stacks of papers will become mounds of unstable surfaces that can present a danger to the hoarder. Hoarding cleanup service providers have seen an unhealthy increase in cases where people have been literally trapped beneath a fallen pile of paper and rubbish. The hoarders either suffer serious injury or are found deceased beneath the piles of rubble."
Putting in effort to comprehend the different types of hoarding can mean the difference between success and failure. It is important to determine why a hoarder has attached themselves emotionally to a particular type of item. Once this relationship is uncovered and resolved, a healthier lifestyle can be achieved.