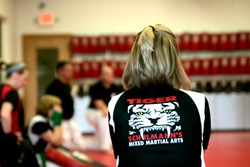 When you are searching for a kickboxing class, it's better to go with a school which teaches you authentic kickboxing. You'll find aerobic exercise anywhere, but you can only learn actual self defense and decrease the chance of injury with REAL training.
East Brunswick, NJ (PRWEB) September 19, 2013
Cardio kickboxing classes are one of the hottest trends in fitness. The number of kickboxing facilities in the United States is expanding rapidly. In most fitness publications, kickboxing classes are topping calorie-burning charts. Kickboxing is known to burn over 800 calories per hour, melting away fat and toning muscle. Other benefits include: Improved strength, flexibility, increased endurance... and... the ability to defend one's self.
Tiger Schulmann's offers, "authentic" kickboxing at its East Brunswick location. Dozens of Tiger Schulmann's students demonstrate their professional kickboxing skills throughout the United States, including in the UFC.
Alon Feder, Director of Marketing for Tiger Schulmann's says, "There is a huge difference between 'authentic' kickboxing classes and many other forms of aerobic kickboxing. With most kickboxing schools, you're not learning the real techniques. You learn movements which simulate authentic kickboxing. Sure, the aerobic benefit is there, but the moves won't work as well should you need to defend yourself. Additionally, if you don't learn the real moves, you are more likely to sustain injury during training."
Tiger Schulmann's web-only offer includes a free kickboxing class with complimentary training gloves and a $50 savings certificate for the East Brunswick, New Jersey location. The offer can be found on: http://www.eastbrunswickmma.com/kickboxing-classes/.