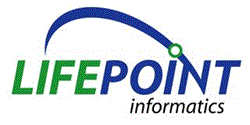 Where Performace and Reliability Meet
Glen Rock, NJ (PRWEB) September 19, 2013
Seizing a golden opportunity, Lifepoint Informatics will serve as a gold sponsor for the upcoming G2 Lab Institute Conference, one of the longest-running healthcare conferences in the nation's capital. The conference takes place Oct. 16-18 in Arlington, Va. Celebrating its 30th year, Lab Institute focuses on "effectively navigating legislative changes and planning for the future to growing profitability to leveraging emerging technologies" for anyone with a stake in the lab industries.
In addition to its gold sponsorship, Lifepoint Informatics will also be an exhibitor, sharing information technology solutions designed to streamline clinical data exchange while serving as a resource throughout the event.
"Lab Institute does an amazing job of bringing together leaders and innovators across the lab industry today for education, networking and connection, and we are thrilled to serve as a gold sponsor this year," said William Seay, ceo, Lifepoint Informatics. "We always enjoy sharing Lifepoint Informatics' laboratory IT solutions and learning from others in the industry."
Lab Institute 2013 will be held at the Hyatt Regency Crystal City in Arlington. Over the past three decades, the event has focused on relevant and valuable learning related to the diagnostic lab industry. Attendees included lab CEOs, COOs and CFOs, medial and administrative directors, compliance officers and lab and hospital general counsel, as well as administrative, financial and sales professionals.
Topics for this year's event include controlling costs and improving outcomes, staying on top of new billing and payment changes, the state of the current lab industry, the prognosis for healthcare reform, the case for patient-centric testing, new business models, new practice opportunities for pathologists, recent case studies and more.
Lifepoint Informatics' mission is to help healthcare providers improve patient care and lower costs through the use of information technology by enabling customers to integrate disparate healthcare information systems and improve the communication, accuracy and flow of clinical information. Lifepoint's solutions can improve the quality of patient care at a reduced cost, achieving positive return on investment.
About Lifepoint Informatics
Lifepoint Informatics is a leader in healthcare IT focusing on laboratory outreach connectivity, health information exchange and clinical data interoperability to help healthcare providers improve patient care and lower costs through the use of information technology. Since 1999, Lifepoint Informatics has enabled more than 200 hospitals, clinical labs and anatomic pathology groups to grow their market share and extend their outreach programs through the deployment of its ONC-ATCB certified Web Provider Portal and its comprehensive portfolio of ready-to-go EMR and EHR interfaces. For more information, please visit http://www.lifepoint.com.
# # #