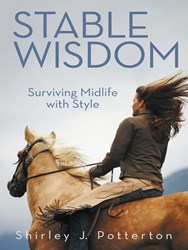 How we age is totally up to us!
Modesto, CA (PRWEB) September 19, 2013
When Shirley Potterton reached middle age, she was concerned about which direction life would take her next, but then her prized filly, Molly, was born.
Raising a horse for the first time in her 50s forced Shirley to challenge her beliefs about what was possible in midlife. The realization that midlife could be a time of expanding horizons inspired Shirley to write her new guidebook Stable Wisdom: Surviving Midlife with Style.
"How we age is totally up to us," said Shirley. "The human brain and muscles still react to stimulation in later years as they do in youth. Just by continuing to exercise, learn and socialize, our later years can become our most productive."
Using raising a horse as an analogy, Stable Wisdom combines Shirley's personal experiences with research and stories from other midlife women to create a step-by-step plan for any woman to not only survive, but also prosper during middle age.
"The word crisis does not belong anywhere near the term middle age!" said author Shirley Potterton and she is living proof.
Stable Wisdom: Surviving Midlife with Style
By: Shirley Potterton
SC-ISBN: 978-1-4759-8092-8
SC retail price: $18.95
Available at amazon.com.
About the Author
Shirley Potterton spent many years as the director of the K-12 extended education program for Chapman University, then traveled the U.S. training teachers on classroom organization. She is currently adjunct faculty for Brandman University where she teaches health education, literature for children, and music, movement and drama courses. She has also created a workshop series based on the book to help organizations build their workplace "soft-skills". She lives in Modesto with her husband, four horses, two dogs, cat and one llama.