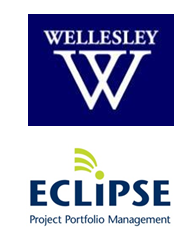 Toronto, Ontario (PRWEB) September 22, 2013
Despite Wellesley's Library & Technology Services Dept. (LTS) had recently implemented a successful project prioritization process through a committee at both the senior staff and manager level, there was still great room for improvement. This was particularly the case from a communication and resource management point of view.
Donna Volpe Strouse, Director, Planning & Administration, of the LTS Department noted that with PPM practices being used inconsistently, there were communication breakdowns about projects among project team members and additionally with executives. Within the department, people didn't know what projects were going on outside of their groups, or which projects their staff were working on. This lack of communication made it extremely difficult for resource managers, and also for the CIO, in making decisions about resource commitments. Additionally, there was no central management of projects - no unified system to manage them, inconsistent use of a project charter and project schedules were difficult to access.
The implementation of project portfolio management software brought with it some welcome change for LTS. The biggest change has been seen around communication. The CIO and resource managers now have easy access to the projects that their staff are working on and information about project status, which has resulted in more consistent communication within a project team and across the department.
Wellesley College LTS has vastly been able to improve the consistency of their project portfolio management practices, but these didn't occur simply through choosing and implementing the right PPM solution for them. There were a couple of key contributing factors that have resulted in the success that LTS has seen. The CIO and LTS senior leadership team were behind this initiative 100 percent, and their support has helped to secure compliance with the use of the tool among their staff.
Donna and her team have also found that "Solution Q's support (the makers of Eclipse PPM) has been excellent." Donna has found that Solution Q has been there to help through the initial and ongoing training, with technical support, providing specialized training for staff, giving assistance with applying the right processes and providing advice on how to adjust process according to their specific practices.
Together, these two factors have greatly contributed to making the implementation of the tool successful.
For further information about how Wellesley have been able to achieve these results with Eclipse PPM, you can read the full case study here.