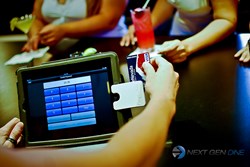 (PRWEB) September 18, 2013
Prelag Partners LLC has launched Next Gen Dine, the restaurant point of sale that is improving restaurants one station at a time through their sophisticated software.
The Next Gen Dine point of sale software goes above and beyond the typical POS system. The software helps restaurants manage the front-end and back-end of the establishment.
This point of sale only needs an active internet connection to run its full features. Next Gen Dine is currently available to download and use through the App Store on Apple devices such as the iPad, iPad Mini, and iPhone.
With Next Gen Dine, servers can effortlessly and securely take table-side orders and payments. Orders are immediately processed to the appropriate prep station in the kitchen, thus reducing the order turn-around time. The excellent customer service will leave customers content and keep them coming back.
Some of the features on Next Gen Dine include full sales reports, schedule management, payroll, reservations, e-mail marketing, coupons, gift cards, digital menu, high resolution menu item images, and so much more.
Making tableside payments safe and easy, Next Gen Dine is the future of restaurant dining. For more information about the product or to find out how your restaurant can take part of Next Gen Dine, contact Paul Roberts, Managing Partner at 1-877-342-2218 or paul(at)nextgendine(dot)com. Follow us on Twitter, Facebook and LinkedIn.
About Next Gen Dine
Next Gen Dine is a product of Prelag Partners LLC.
Next Gen Dine is a cloud-based, mobile restaurant point of sale software designed for the iPad. Restaurant owners can now capitalize on the benefits of a full-featured POS system for a fraction of the cost of a traditional POS. Due to the mobility offered by the software, employees can take orders directly at the table, take credit card payments at the customer's side, and drastically improve restaurant operating efficiency. Orders placed are sent directly to the appropriate prep station, therefore decreasing order turnaround time. Next Gen Dine also offers restaurant owners customer loyalty, gift card, social media, and fine-grained marketing tools.
To learn more about Next Gen Dine and services offered, please visit the company's website at http://www.nextgendine.com.