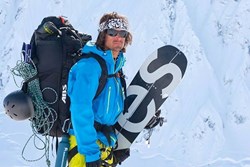 Jeremy has given voice to an influential group of individuals that are seeing first hand the devastating evidence of our rapidly warming planet.
Fredericksburg, VA (PRWEB) September 18, 2013
Our winter playgrounds are under siege - a loss of snowpack as a result of milder and shorter winters are conspiring to end generations of snow-dependent recreation across the globe, says extreme snowboarder, Jeremy Jones. In a newly- posted Vital Voices of the Environment interview with Marstel-Day President and CEO, Rebecca R. Rubin, Jones explains how shrinking glaciers and reduced snow are yet another casualty of climate change, and that without action the future is grim not just for recreationalists, but for businesses and downstream water users.
See interview here: https://www.youtube.com/watch?v=9nVTJabDh4Y
"Jeremy Jones is the face of a new generation taking it to the streets in the fight against Climate Change," said Rubin. "When he's not big mountain freeriding around the globe, he can be found in Washington, D.C. challenging Congress and the Administration to protect our winters by taking steps to address the realities of climate change."
In his battle to raise awareness about the impacts of climate change to winter sports, commerce and water users, Jones established the non-profit advocacy group, Protect Our Winters (POW), that is galvanizing the winter sports community around the fight, and enlisting professional athletes to joint him in getting word out to decision-makers and the public. Among his recent accolades, he was recognized as a "Champion of Change" by the White House for his effective advocacy.
Among its various initiatives, Protect Our Winters has partnered with The North Face to educate students about the threat of climate change through its "Hot Planet, Cool Athletes" program. The program has reached thousands of school kids, with pro winter sports athletes give high-impact multi-media programs that provide them with a platform to share their experiences witnessing climate change first hand. With Jeremy's leadership, the group also delivered a letter to Capitol Hill, signed by over 500 professional athletes, corporations and others to protect the EPA and the Clean Air Act's ability to regulate CO2 as a pollutant. The effort led to more than 1.2 million media impressions in outlets such as ESPN, USA Today, The Hill, NPR and others.
Marstel-Day's Vital Voices of the Environment series spotlights critical thinkers and planners, each of whom offers unique insight on the key issues we face now and for the environmental future of our planet. "Jeremy has given voice to an influential group of individuals that are seeing first hand the devastating evidence of our rapidly warming planet," said Rubin.
Recognized for five consecutive years as one of the Inc. 5000 fastest-growing companies in the nation, Marstel-Day is a certified woman-owned, small, HUBZone business concern that holds multiple federal prime contract vehicles. The company offers an array of natural resource and environmental consulting services to its clients in the public and private sectors alike. Marstel-Day has been recognized for its environmental ethic and was most recently awarded the AWE (Alliance for Workplace Excellence) leadership award and the Rappahannock Sierra Club's "Living Green" award for its demonstrated ecological leadership. In addition to its principal office in Fredericksburg, VA, the company has offices in Alexandria, VA; Annapolis, MD; Oakland and Oceanside, CA; Stennis Space Center, MS; and Dallas and San Antonio, TX.