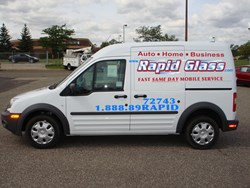 Rapid Glass has proven its prices are fair, reasonable and competitive in the local industry at large.
Minneapolis, Minnesota (PRWEB) September 18, 2013
More and more Independent Auto Glass Repair and Replacement Companies are challenging insurers on what is fair and reasonable pricing in the marketplace and are prevailing virtually every time. Rapid Glass, a Minnesota based auto glass company, has received additional monies time and time again. In this recent American Arbitration Association Minnesota no-fault tribunal ruling on May 3rd, 2013 against USAA (No.56 600 00817 13), Rapid Glass was awarded $38,615.70 including interest.
Just last year, they were awarded $168,376.54 against Progressive Insurance in a similar hearing. In the Progressive case, the insurer argued that as long as their reimbursement was also in the range of reasonableness under the policy, that is all they had to pay. The Minnesota Court of Appeals disagreed with that position in the April 9th, 2012 opinion (No. A11-1492).
"Rapid Glass has proven its prices are fair, reasonable and competitive in the local industry at large," says Rick Rosar, President of Rapid Glass. "When these short pay cases are reviewed by a non-biased independent judge or arbitrator, the truth is easy to see." Over the last several years, these additional reimbursements for this one small locally owned Minneapolis Glass company are now approaching one million dollars.
The windshield is a safety device and works in conjunction with a vehicles seatbelts and air bag systems. In many vehicles, the windshield maintains up to 60% of the integrity of the roof in a rollover, acts as a backboard for the passenger side airbag and if properly installed, keeps the passengers from being ejected from the vehicle which is a leading cause of death in these types of accident. A properly installed windshield can make the difference between an accident victim, living or dying.
For 25 years, Rapid Glass has been one of Minnesota's premier Windshield Replacement and Auto Glass Repair Specialists. We provide Quality Same Day Service for all of your Auto, Home or Business Glass needs. Our Customer Service representatives are both friendly and knowledgeable. Rapid Glass handles all the paperwork and will assists the customer with reporting their loss to ensure they are getting the full benefit that their insurance policy provides.