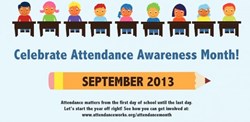 Beaumont, TX (PRWEB) September 18, 2013
As students are returning back to school this September, the problem of excessive absenteeism and its long-term effects are being recognized nationally with Attendance Awareness Month. The month long campaign is designed to bring attention to the crisis of absenteeism in schools and the effect it has on student success. Missed school days also mean lost funding for school districts. The single largest source of public school funding is school district revenue limits, which are paid to districts by the state based on student attendance.
A report of the Surgeon General maintains that 51 million school hours are lost annually due to dentally related illnesses. A study posted in the American Journal of Public Health concluded that children with poorer oral health status were more likely to experience dental pain, miss school, and perform poorly in school. These findings suggest that improving children's oral health status may play a large part in enhancing their educational experience.
Tooth decay is the number one cause of school absences and affects more children than asthma or hay fever. Tooth decay is the single most common chronic disease of childhood and affects nearly 60% of children in the United States. "Prevention is key," says Dr. Ashley DeMarco of Gulfside Dental, "small problems need to be caught early."
Dr. DeMarco offers these tips to parents:

After age 3, regular check-ups are needed every 6 months.
Use preventative measures like sealants
Brush twice a day for two minutes each time, especially before bed.
About Gulfside Dental:
Gulfside Dental offers a comprehensive oral health program, including preventative, cosmetic and reconstructive dentistry for all ages as young as six months old. Gulfside Dental also specializes in: bridges and implants, extractions, dentures and partials, braces, emergency dental care, Snap-On Smile, LUMINEERS, and ZOOM whitening. Gulfside Dental accepts all major PPO insurances, some HMO Insurance plans, Medicaid, CHIPS, Texan Plus, HealthSpring, Care Credit, Visa, Mastercard, and Discover. Gulfside Dental is located at 4179 Dowlen Road in Beaumont, in the Barnes and Noble shopping center, across from Parkdale Mall. For appointments, please call 409-899-4867.