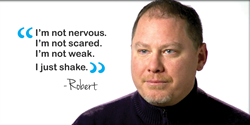 The IETF is excited about this new product and is pleased to partner with Lift Labs to bring this unique device to those who really need it.
Lenexa, KS (PRWEB) September 18, 2013
The International Essential Tremor Foundation (IETF) is pleased to announce a new partnership with Lift Labs, makers of Liftware, the new tremor cancelling assistive spoon for those affected by essential tremor (ET) and other movement disorders.
The IETF will identify individuals who are affected by ET and who are in need of the Liftware spoon but do not have the ability to pay. Lift Labs will then, in turn, provide those individuals with the product at no charge. Lift Labs will accept donations to help fund this program. Through this partnership, Lift Labs plans to assist the IETF in spreading awareness of essential tremor to the general public while positively impacting the lives of a broad number of people.
Essential tremor is a neurological condition that affects more than 10 million Americans. Causing rhythmic shaking of the hands, head, and voice, ET is often misdiagnosed as Parkinson's disease, although eight times more common. ET is characterized by a kinetic (action) tremor, making everyday tasks such as eating, drinking, and writing, difficult if not impossible. There is no cure for this life-altering condition.
Studies show that as many as 75% of those with serious tremor avoid going out to restaurants due to embarrassment and discomfort. Liftware's technology will remove this unnecessary isolation, and improve the individual's quality of life.
"The IETF is excited about this new product and is pleased to partner with Lift Labs to bring this unique device to those who really need it," says Catherine Rice, IETF executive director.
About The International Essential Tremor Foundation:
Headquartered in Lenexa, KS, and founded in 1988, the International Essential Tremor Foundation is the leading organization in the world dedicated to those affected by essential tremor. The mission of the IETF is to fund research that will find the cause of essential tremor and lead to better treatments and a cure, increase awareness about ET, and provide educational materials, tools and support to healthcare providers, the public, and those directly affected by ET.
The IETF has distributed more than $685,000 in research grants, to fund 27 promising studies, in the search for the cause of ET. The Foundation has hosted numerous community awareness events across the U.S. to provide those affected with the basic knowledge necessary to become their own advocate when seeking treatment. And, the IETF also provides assistance to a vast network of support groups around the world. To learn more about essential tremor and the IETF mission, visit the IETF website at http://www.essentialtremor.org.
About Lift Labs:
Liftware is a new product from Lift Labs. The company is focused on the development of new technologies for improving quality of life and human performance. It is funded by the National Institutes of Health and has received highly competitive SBIR (Phase I and II) grant awards. The company combines the talent of business directors, medical advisers and engineers to create cutting-edge products with broad impact. The developed products have been patented domestically and are pending internationally. For more information about Lynx Design, visit http://www.liftlabsdesign.com.
For comment or interview:
Catherine Rice
IETF Executive Director
crice(at)essentialtremor(dot)org
913.341.3880
###