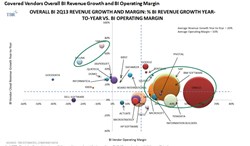 Hampton, NH (PRWEB) September 18, 2013
According to TBR's 2Q13 Business Intelligence Software Vendor Benchmark, the business intelligence (BI) software market will surpass $40 billion by 2018 as vendors expand and integrate portfolios to capitalize on customers' BI software investment plans. TBR research shows customers' BI software consumption patterns are maturing and broadening, with customers moving from stand-alone tools to packaged BI applications and then to analytic complements of business applications. TBR market sizing projects an average 4% year-to-year annual revenue growth between 2013 and 2018 — a slowdown from the double-digit growth rates of 2011 and 2012 that reflects the rising maturity of this market and the extent to which customers can extend BI software deployments.
The projected 2013 growth for the BI software market shows the market is at an inflection point: Revenue grew by double digits across the start of the year, fueled by IPOs around high-interest segments including data visualization, but growth is set to slow in the remaining quarters. Enterprise Software Analyst Elizabeth Hedstrom Henlin said, "TBR projects annual revenue growth for 2013 in the BI software market at 4%, down from 2012 year-to-year growth of 15%. We believe market activity in the second half of 2013 and early 2014 will slow, reflecting ongoing macroeconomic concerns, and vendor activity will center on portfolio development. Firms will invest in acquisitions or organic development to expand solutions capabilities in BI portfolios."
Enterprise software vendors IBM, Oracle, Microsoft and SAP are using established go-to-market teams and strategies to bundle BI sales in broader install base purchases, maximizing BI margin. An exposure-led approach — using single deals with marquee brands to increase market appeal and attract prospective customers — positions IPO vendors, including Tableau and Splunk, to monetize portfolio and sales investments. Dell Software's recent acquisitions (i.e., Kitenga and Quest) create a portfolio of BI assets ready for monetization, and TBR projects Dell will funnel near-term investment into R&D to engineer BI applications and platforms from current tool assets.
TBR research shows opportunities remain for vendors to grow in the maturing BI software market by aligning portfolios and go-to-market strategies with customers' business needs. According to Senior Analyst and Engagement Manager Allan Krans, "Vendors that can create integrated BI applications and platforms out of basic and advanced BI tool assets will be able to meet the needs of customers' line-of-business purchasers and will sustain revenue growth into 2014."
TBR believes BI vendors, as they focus on BI portfolio integration and interoperability with business applications, can create solutions using BI software point products that are positioned to entice laggard BI adopters into becoming long-term buyers.
TBR's 2Q13 Business Intelligence Software Vendor Benchmark is a semiannual publication that looks at the overall BI software market as well BI software market segments (e.g., BI applications and platforms, basic BI tools, advanced BI tools, data warehousing). The benchmark includes coverage of Actuate, Birst, Board International, Datameer, Dell Software, Domo, GoodData, Google, HP Software, IBM Software, Informatica, Information Builders, Jaspersoft, KXEN, Microsoft, MicroStrategy, Oracle, Pentaho, Pivotal (reflecting historic contributions from legacy EMC and VMware portfolios), Qliktech, Salient, SAP, SAS, Splunk, Tableau, Teradata and Tibco.
TBR will host a webinar on Sept. 18, 2013, at 2 p.m. to preview findings from the 2Q13 Business Intelligence Software Vendor Benchmark and discuss market projections. Click here to register for this webinar. TBR will publish the 2Q13 Business Intelligence Software Vendor Benchmark on Sept. 19, 2013.
For more information on the report or the webinar, please contact Senior Marketing Manager Alison Crawford at alison.crawford(at)tbri(dot)com or 603.929.1166.
About TBR
Technology Business Research Inc. is a leading independent technology market research and consulting firm specializing in the business and financial analyses of hardware, software, professional services, telecom and enterprise network vendors, and operators. Serving a global clientele, TBR provides timely and actionable market research and business intelligence in formats that are tailored to clients' needs. Our analysts are available to further address client-specific issues or information needs on an inquiry or proprietary consulting basis.
TBR has been empowering corporate decision makers since 1996. For more information, please visit http://www.tbri.com.