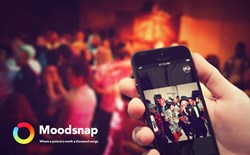 Boston, MA (PRWEB) September 18, 2013
Moodsnap — The Image-Based Music Streaming app that delivers contextually relevant music mapped to personal taste — debuted internationally for iPhone and iPod Touch on Tuesday, September 17th. The app has been in closed-beta since May. Powered by Spotify and The Echo Nest and free for Spotify Premium subscribers, Moodsnap categorizes music stations by emotive photographs, allowing users to choose music by tapping an image that best relates to how they feel. This instinct-driven experience is designed for music fans who are overwhelmed by choice in today's digital world, providing more time to simply live in the moment.
Without trusted curators, digitally saturated music fans struggle to discover music they like. Purely algorithm-generated playlists do not necessarily meet the expectations of every listener and are devoid of human connection. On the other hand, purely user-generated content ignores the subjectivity of personal taste. Moodsnap aims to deliver a hybrid solution, differentiating itself in three key ways.
First, the Moodsnap user community collaboratively curates the music stations. Users look at photographs that the app provides, and contribute songs that feel right for each image. Rather than a listener selecting a station titled "love songs," he or she might tap a photograph of a flirty, playful couple in a park on a sunny day, or perhaps a more intimate couple snuggling up on the couch. Both elicit thoughts of love songs, but very different ones.
Secondly, to accommodate the inherent subjectivity of a crowd-sourced music model, each user's experience is mapped to his or her individual taste. By telling the app that a certain song does not fit their taste, or conversely, does not fit the Moodsnap (i.e. photograph), the user not only improves the app's understanding of his or her musical interests, but also the quality of the station for the community at large. In effect, the simple rules that govern the system create a dynamic, self-regulating experience for everyone – comparable to other user-generated platforms such as Wikipedia, Waze, and Rap Genius.
Lastly, a public leaderboard rewards the service's most tasteful contributors, giving them social recognition, status, and a platform for real-time social engagement.
In essence, Moodsnap is designed to serve two types of people – the lean-back listener who wants to quickly find contextually relevant music that matches their taste, and the lean-forward listener, who enjoys knowing their great taste is adding value to the community in real-time.
Why communicate through images? Scientific research examines the dominant role imagery plays in how we process information. "Visuals are processed 60,000 times faster than text, graphics quickly affect our emotions, and our emotions greatly affect our decision-making," says Mike Parkinson in The Power of Visual Communication. Further, "Studies find that the human brain deciphers image elements simultaneously, while language is decoded in a linear, sequential manner taking more time to process." This all leads to a gut-feel decision making and discovery experience, letting users think less, and feel more.
Moodsnap Co-Founder and CEO David Blutenthal adds the following statement on the strategic decision to enter the market as a Spotify powered app:
"Spotify was the clear choice as the music platform, because they provided the tools and flexibility that made it possible for us to create the type of user-curated, interactive, real-time experience that people asked for. Spotify has a variety of apps for their desktop platform, but very few for mobile devices. When it comes to picking music to match your mood, it's all about mobile first. People's moods and energy levels change throughout the day, and a portable music companion is the only way to satisfy whenever, and wherever, the mood strikes."
Moodsnap will be available Tuesday, September 17th on the iTunes App Store in all countries where both Spotify and iTunes offer service.
###
For more information on Moodsnap, visit http://moodsnap.fm.
To schedule interviews or for more information, please contact David Blutenthal at david(at)moodsnap(dot)fm.