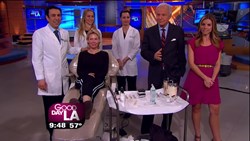 Los Angeles, CA (PRWEB) September 18, 2013
Most people undergo facial plastic surgery procedures in order to improve their appearance and look younger. However, according to an August 1, 2013 NBC News report entitled "How Much Younger Does Plastic Surgery Make You Look? Three Years," a new study in JAMA Facial Plastic Surgery reveals that plastic surgery shaves an average of three years off a patient's appearance. One of the coauthors of the study says that plastic surgeons should tell prospective patients that they will look more refreshed instead of making predictions about how much younger patients will look after facial plastic surgery.
"It is important for aesthetic practitioners to be more honest about the degree to which surgical treatments change patients' looks," says Dr. Simon Ourian, Medical Director of Epione Beverly Hills. "There are now non-invasive options for treating dark circles and acne scars available as alternatives to traditional surgery."
According to the NBC report, the study was conducted in an attempt to quantify the degree of change in patients' looks by having lay people rate the results. To this end, the researchers tracked the changes witnessed in over 200 patients who underwent facial plastic surgery procedures in Toronto, Canada. One of the main methods used to gather data for the study was with before and after photos of patients using similar photography techniques in each shot. A group of hospital workers and lay people from the community reviewed the before and after photographs of various patients and estimated the age of each patient in each photograph. The results of the study indicate that, on average, the "raters" estimated that patients looked about 3.1 years younger than their actual age in the photograph taken after facial plastic surgery.
Researchers, says the NBC News report, assert that even though an average of 3.1 years is not tremendous, patients who want to look younger should still consider facial plastic surgery a viable means to attain their goals since the study's findings indicate that patients definitely look younger after surgery (though not by many years). The study also revealed that some patients may look younger by up to nine years after surgery.
"I think it's time to recognize that the gap is narrowing between the potential results offered by traditional plastic surgery and those that can be attained with latest non-invasive techniques," says Dr. Ourian. "And non-invasive techniques for face lifts and neck lifts don't carry the risks of general anesthesia."
The NBC News report goes on to say however, that some plastic surgeons question the reliability of studies that purport to quantify the anti-aging benefits of their treatments. For instance, while some studies indicate that patients can shave 7 years off their age by getting plastic surgery treatments, other studies suggest that only a 3-year reduction in age can be expected. Factors such as the opinions of the raters consulted in the study and the skills of the plastic surgeon that treated the patients in a specific study can easily distort the study's findings.
Dr. Ourian has been a pioneer in laser technology and non-invasive aesthetic procedures including Restylane, Juvéderm, Radiesse and Sculptra. These treatments are used for the correction or reversal of a variety of conditions such as acne, acne scars, skin discoloration, wrinkles, stretch marks, varicose veins, cellulite, and others. More information about plastic surgery can be found on Epione's website.