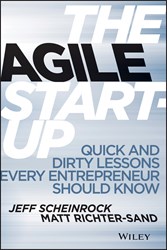 Hoboken, NJ (PRWEB) September 20, 2013
Even with all of the resources available to entrepreneurs, the chances of getting a company off the ground are daunting. For the fortunate few who manage to get a startup off the runway, building and leading a new company can be one of the most rewarding experiences of your life. Nobody understands this better than coauthors Jeff Scheinrock and Matt Richter-Sand. In their new book, The Agile Startup: Quick and Dirty Lessons Every Entrepreneur Should Know (Wiley; September 2013; hardcover and e-book), they share the lessons they've learned over the years while founding startups, working with early-stage companies, and consulting with entrepreneurs.
Engaging and accessible, this reliable resource is for every kind of entrepreneur, from those just starting out to the established, early-stage CEO. It quickly shows how to dodge painful, common, and avoidable mistakes and get a startup business in a position to prosper. Through the hundreds of startup lessons found here, readers will be exposed to the latest ideas, philosophies, frameworks, and best practices for entrepreneurship in today's dynamic global markets. The book offers valuable insights on essential issues, including:

Reduce risk by turning assumptions into facts as quickly as possible
Put together a powerhouse founding team and the best way to make partnerships work
Use competition to gain an advantage, breaking down a market, and effectively acquiring customers
Perfect the startup pitch, from getting an audience to understand an idea in less than three seconds to a surprisingly simple way to figure out if the pitch is working
How to find the perfect investors and determine if one is needed in the first place
Transition from the "feasibility" stage of the Entrepreneur's Lifecycle to actual business building activities
There's more information available at http://www.agilestartup.com/, where the authors frequently post new startup strategies. The site also contains other timely tools and tactics for the avid entrepreneur.