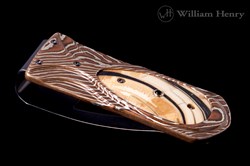 Immediately distinctive and rare objects, imbued with the personality and individuality of their owners - Matt Conable
McMinnville, OR (PRWEB) September 18, 2013
Men's luxury brand William Henry presented today the new M3-Zurich money clip collection. Just a few months after releasing their first cufflink collection, the American brand confirms its attention to men's fashion styles and its focus on creating beautiful accessories and functional jewelry for men.
Inspired by the modern man who desires accessories imbued with both utility and exclusivity, the new M3 collection features the exquisite hand-forged metals, and rare, exotic materials that are the hallmark of William Henry's lineup of fine functional jewelry.
For 15 years, William Henry has been redefining the world of luxury accessories for men by turning functional tools such as pocketknives, golf tools and writing instruments into precious personality statements and inimitable expressions of personal style. Designed with mechanical and tactile excellence, the new M3 money clips sport masculine lines, a bold new look, and feature 60% more capacity than the smaller M2 model.
Paying careful attention to function, durability and striking appearance, the collection is comprised of 6 distinct limited editions of 1,000 pieces only, with frames made from hand-forged damascus steel, mokume gane (the rare forging technique originally developed in Japan to create decorative fittings on samurai swords), and aerospace grade titanium. The exotic inlays range from 10,000 year-old fossil Woolly Mammoth to desert ironwood, carbon fiber, and fossil coral from the Florida Keys. The inlays are punctuated by an inlaid gemstone in an 18K gold bezel. Each money clip is machined and polished from tempered stainless steel, with a beautiful engraving bright cut against the matte-finished background.
"Each of the pieces we conceive and create must be flawless in function and superior in artistry," says Matt Conable, founder and creative engine of William Henry. "There's more: our collections are not only made of precious and stylish instruments, they're also immediately distinctive and rare objects, imbued with the personality and individuality that strike a personal chord with their owners."
At a time when purchases of accessories and jewelry signal men's growing interest in style and fashion, William Henry's new M3 money clip represents a new and distinctive choice that allows men to own an elegant and yet truly original personality statement.
Moreover, as sleek new fashion styles tend to highlight body lines, traditional wallets are often becoming too bulky for many new stylish outfits, and money clips are proving to be more than just a beautiful accessory, but an indispensable addition to every man's wardrobe.
Designed for a lifetime, built with precision and passion, William Henry's M3-Zurich money clips are available for purchase today and range in price from $260 to $595.
William Henry products are available at http://www.williamhenry.com and at over 400 independent retailers across the country and abroad.
###
About William Henry
William Henry is an American luxury brand devoted to the vision of designing and creating superlative functional jewelry. Designer and entrepreneur Matt Conable founded the company in 1997 and is now the sole owner. Conable first established the brand creating exclusive and award-winning pocketknives, effectively transforming the archetype of all tools into a superb piece of functional jewelry for men. Today's collections also include cufflinks, writing instruments, money clips, and golf tools.
The seamless integration of classic natural materials, precious metals & gemstones, and state-of-the-art alloys is a hallmark of William Henry's work. The brand creates limited editions only, and no two pieces are ever replicas. William Henry's collections are available on its website and through a select network of authorized retailers in the US and abroad. For more info on WH visit williamhenry.com.