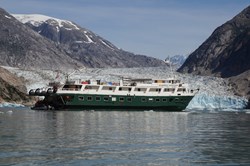 "It feels good to be recognized," said Dan Blanchard, CEO and principal of Un-Cruise Adventures. "Winning two Magellan awards makes our entire team—from the crew to the office—very proud."
Seattle, WA (PRWEB) September 19, 2013
Adventure cruise line Un-Cruise Adventures has won two Magellan awards from leading travel trade publication Travel Weekly—a gold award for best small cruise ships and a silver in the cruise ships promotional video category.
The line's Active Adventure fleet of three expedition vessels—60-guest Wilderness Adventurer, 76-guest Wilderness Discoverer and 76-guest Wilderness Explorer—won a gold Magellan award as best in the category of small cruise ships under 500 passengers. All three vessels sail weeklong Active Adventures in Alaska focusing on exploring nature and wildlife up close in wilderness areas. Hiking, kayaking, paddle boarding, skiff excursions and whale watching are main activities. A new seven-night adventurous Coastal Washington itinerary begins in spring 2014.
A silver Magellan award in the cruise ship-promotional video category recognizes a short video titled "A Week Aboard the Wilderness Explorer in Alaska." All footage used in the video was shot by Weston Walker-Knoblich during one week aboard the vessel on an Active Adventure in Alaska.
"It feels good to be recognized," said Dan Blanchard, CEO and principal of Un-Cruise Adventures. "Winning two Magellan awards makes our entire team—from the crew to the office—very proud."
The Travel Weekly Magellan Awards honor the best in travel each year. Travel providers apply for awards in various categories and a panel of judges comprised of top travel industry professionals picks award winners. The 2013 winners have been announced online.
###
Tweet: @Uncruise wins 2 Magellan awards from Travel Weekly—Gold for Adventure #cruise fleet, silver for promo video on Wilderness Explorer.
Editor's note: Visit the Media Gallery for press materials and images. More high-res photos for editorial use are available through Sarah Scoltock at sarahs(at)un-cruise(dot)com.
About Un-Cruise® Adventures |formerly InnerSea Discoveries + American Safari Cruises
Un-Cruise Adventures' fleet of eight vessels carries 22-88 guests on Active, Luxury and Heritage Adventures. Destinations include Alaska, Hawaiian Islands, Mexico's Sea of Cortés, Columbia & Snake Rivers, and Coastal Washington & British Columbia. Un-Cruise Adventures, under the parent company of InnerSea Discoveries, is a member of Trusted Adventures, dedicated to the highest standards of small-group travel and to giving back to the places visited. Unrushed. Uncrowded. Unbelievable. is a protected trademark.