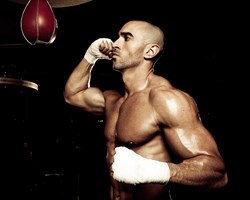 You might hate the way a workout feels, but you'll love it when you emerge on the other side, unbroken.
(PRWEB) September 18, 2013
Beyond Genetics Supplements, a nutritional supplement company focused on promoting a healthy lifestyle through fitness, has taken its first step into the alternative fitness arena with the signing of athlete Jonathan Coyle. The 31-year-old, underground face of the social media movement in CrossFit, will join forces with the social media fitness giant, SHREDZ, to promote his own brand of fitness he calls UNBROKENFIT.
Coyle has been training in CrossFit gyms for less than three years and is already a featured athlete for Orange County CrossFit. In this short time, the Orange County-native has starred in promotional campaigns for NIKE and has had fitness spreads in UFC Magazine, UFC 360 and UFC Fit. He can be seen in campaigns for Vanguard MMA and Iron Fist Athletic and will be staring in an action film by Berube Films called Berserkers.
Coyle says this partnership with SHREDZ is more than he ever dreamed of.
"I'm honored that Beyond Genetics has chosen me to represent SHREDZ, a brand that has already accomplished amazing things in the fitness industry in such a short time. When I started CrossFit, I had no intention of getting sponsored, I just needed to make an extreme transition in my life, so I decided to take on an extreme sport. That's why it's so fitting that my career goes in extreme directions like this."
The former lacrosse player says he and the brand share a vision.
"The SHREDZ message that fitness goes beyond lifting weights is a perfect fit with my philosophy that there's no such thing as 15-minute abs. If you want to make serious changes to your body, you're going to have to put your body through some serious work. You might hate the way a workout feels, but you'll love it when you emerge on the other side, unbroken."
This signing is the beginning of a string of new additions that Beyond Genetics Supplements will be unveiling in the days leading up to their premier presence at the 2013 Olympia Expo at the Las Vegas Convention Center on September 27th and 28th in Las Vegas. SHREDZ athletes will be available for autographs, pictures and fitness advice during the expo.
Follow Jonathan Coyle on Twitter and Instagram.
Beyond Genetics Supplements, the fastest growing name in the health and fitness industry, was founded in 2011 and is headquartered in Jersey City, N.J. The company is led by co-founder and Chief Executive Officer Arvin Lal. Beyond Genetics Supplements offers maximum strength nutraceuticals, including its flagship product, SHREDZ Maximum Strength Fat Burner. The entire product line is manufactured and warehoused in the United States and distributed throughout more than 50 countries. For more information, visit http://www.BreakingPastGenetics.com.