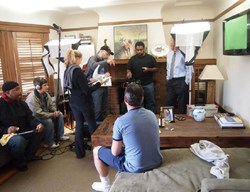 Suicide Prevention Month is the perfect time to launch a crowdfunding campaign for The Suicide Party film, which raises issues about suicide, inequality, economic upheaval, and other timely topics.
San Francisco, CA (PRWEB) September 17, 2013
Since suicide is a big social problem – an average of 3000 people a day, over 1 million a year, National Suicide Prevention Month is designed to draw attention to this problem, and in this spirit, an international crowdfunding campaign for The Suicide Party film was launched in mid-September. Inspired by the growing number of suicides resulting from the economic meltdown which still continues for millions of people, the film tells the story of a once-successful salesman who is about to lose his house and all he holds dear. Unable to bear the thought of living on the streets or in homeless shelters, he organizes a suicide party with the help of his friends, who are struggling, too. If he raises enough he'll live; if not he'll end it all, leading a media frenzy and unexpected results. The film is sure to be controversial and it raises issues about inequality and the loss of the middle class in America, as well as being a powerful, suspenseful drama.
The campaign has already begun to gather momentum in its first days with contributions and comments from L.A. and San Francisco to New York, Illinois, and Arkansas. It includes a film short featuring the first scenes of the film, photos and photo videos of the 3-day film shoot, and photos of a theatrical premiere of two film shorts by The Suicide Party writer and producer, Gini Graham Scott, CEO of Changemakers Productions. It additionally includes links to a related series of documentaries: The Middle Class Homeless about once middle class people who are losing their homes and a Film Festival and Networking Party to launch the campaign.
A Suicide Party website for the film has been set up, and there is a Save Dave website in which people around the world are invited to send in 10-30 second videos with their suggestions on why we should save Dave. A Save Dave Facebook page to build interest in the campaign has been set up too.
The organizer of this campaign and the writer/producer of The Suicide Party is Gini Graham Scott, the founder of Changemakers Publishing and Writing and the author of over 50 published books with major companies and 30 books published by her own company Changemakers Publishing. She also writes books and scripts for clients. She has spoken about the topics of her books to many groups and the media, including appearances on Good Morning America, Oprah, and CNN. She received a PhD in Sociology from the University of California in Berkeley, a JD from the University of San Francisco Law School, and MAs in Anthropology, Mass Communications and Organizational/Consumer/Audience Behavior and Popular Culture and Lifestyles, and a MS in Recreation and Tourism at California State University, East Bay. She will be pursuing an additional MA in Communications there beginning in September 2013.