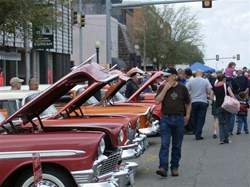 Duncan, OK (PRWEB) September 19, 2013
Come on down to Duncan, The Heart of the Chisholm Trail, for an old fashioned Car Cruise and "draggin" of historic Main Street Duncan this Friday, September 20, 2013 from 6-10 pm.
Main Street Duncan cordially invites the public, both locals and visitors alike, to bring their grills and have Tailgate parties on Main Street during the event. There will be door prizes, music and many of Main Street's unique boutiques and shopping experiences will be open.
These monthly events are a fundraiser to help Main Street Duncan build their own street closures for use at all their downtown events, including Cruisin' The Chisholm Trail Car Show held the third weekend of April each year, the Boo Review on October 26th and The Christmas Parade on December 14th.
To register for the monthly cruises, stop by at 10th and Main, fee to cruise is $10. Any show quality vehicles can cruise including cars, trucks, ATV's, and Motorcycles. So visit Mainstreet Duncan from 6-10pm for an evening of great family fun! Can't make it this Friday? Mark your calendars for this Friday in September and the third weekend in October and we will see you there!
For more information contact Tammy Johnson at 580-252-8696 or The Duncan Convention and Visitors Bureau at 800-782-7167.