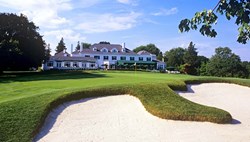 Proceeds from the tournament will go to LRA to help fund research and ultimately find a cure for Lyme and other tick-borne diseases.
Greenwich, CT (PRWEB) September 18, 2013
Lyme Research Alliance (LRA) will host its second annual Golf Tournament on Thursday, October 10, 2013 at the highly rated and exclusive Stanwich Club in Greenwich, CT. Proceeds from the tournament will again go to LRA to help fund research and ultimately find a cure for Lyme and other debilitating tick-borne diseases.
"The Centers for Disease Control and Prevention (CDC) reported recently that 300,000 Americans are diagnosed with Lyme disease each year, and the true count is actually probably much higher," said Peter Wild, LRA's executive director. "Last year's tournament at Stanwich helped us raise over $90,000 to support LRA's mission to search out and support the most promising research to develop better diagnostic tests, treatments and ultimately a cure."
The tournament will begin with registration and warmup at 11 a.m., followed by a lunch buffet served on the clubhouse terrace, and a shotgun start at 12:30 p.m. Following the tournament, golfers and guests will be treated to a cocktail reception, buffet dinner, silent auction, and awards ceremony. The cost is $1,000 per player or $3,500 per foursome.
The private 18-hole Stanwich Club, set on 450 acres, is rated best in Connecticut in 2013-14 by Golf Digest and is regularly ranked as one of the nation's top 100 courses. The long and demanding course was renovated in 2006 by Fazio Golf Course Designers with 23 strategic fairway bunkers added, along with several new tees and other substantive changes. The design, beauty and challenge of its tight fairways and fast greens make Stanwich a must play for any golfer.
Tournament sponsors include Greenwich Hospital, Liberty Travel, AMC Networks, Executive Women's Golf Association, Moffly Media, Baum-Essex, Freeport Commodities, Malcolm & Dana McAvity, the Frascella Family Foundation, Ba & James Edwards, Alan & Fran Herzog, and Pepe Auto Group, the hole-in-one sponsor of a brand-new Cadillac.
Sponsorship opportunities are still available. For registration and information about sponsorship levels, go to lymeresearchalliance.org/golf.htm, sterry(at)lymeresearchalliance(dot)org, or call LRA's office at 203-969-1333.
Lyme Research Alliance, formerly Time for Lyme, is a Connecticut-based, national non-profit that funds cutting-edge research into Lyme and other tick-borne diseases. For more information go to http://www.LymeResearchAlliance.org.