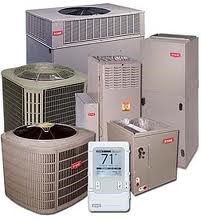 St. Louis, MO (PRWEB) September 24, 2013
Looking to be better prepared for this winter's cold and next summer's heat? Now is one of the best times for homeowners to upgrade their heating and air conditioning St. Louis's Advantage Air, LLC advises.
Heating, ventilating and air conditioning (HVAC) systems are a major monetary investment for most homeowners, so it is wise to know when to get the best deals. Fall is a great time to purchase a new unit because it is in between the busy seasons of summer and winter – when cooling and heating services are at their peak. HVAC contractors and manufacturers have more time on their hands to consult with customers and get them the best deals on the most efficient system for their home.
During the fall, most HVAC manufacturers will offer closeout discounts on the current year's models in order to make room on the warehouse floor for holiday merchandise and models that will be unveiled in the new year. This could mean significant savings for the consumer.
Fall is also the last chance of the year to take advantage of the federal government's 2012-2013 Energy Star Tax Credit. Consumers can save upwards of $300 by simply purchasing select Energy Star rated units.
For more information on how to save money on heating and air conditioning costs, call Advantage Air, LLC at 636-812-3747 or visit http://www.advantageairllc.com.
About Advantage Air, LLC
Founded by Troy Jones in 1999, Advantage Air, LLC is a full-service residential and commercial HVAC mechanical contractor servicing all brands of heating and cooling systems in Saint Louis. Advantage Air LLC has been serving the greater St. Louis, St. Charles, and Jefferson County area for more than 12 years. The company's success is derived from providing top-of-the-line service and earning referrals from customer families and friends supporting continued growth.