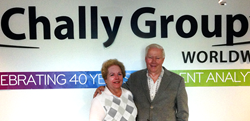 We are delighted to be where we are today, and thankful to have been able to contribute as much as we have to the Military, Government and Business communities and to the broader science of human capital management.
Dayton, Ohio (PRWEB) September 18, 2013
Chally Group Worldwide, a research and talent analytics organization, is celebrating its 40th anniversary this month. Founded in 1973 as SSS Consulting by Howard and Sally Stevens, and Chuck Scheidler (deceased), the research group was selected by the U.S. Department of Justice (DOJ) to create a new selection methodology for law enforcement officers. This program was the first government-sponsored application of actuarial standards to personnel assessment. Over the next four decades, they continued to research, create and innovate human capital measurement.
Since 1978, under the DBA, The HR Chally Group, work continued with agencies such as the U.S. Air Force, U.S. Defense Department, and NASA (through TRW, Inc.) as well as many corporate clients on a range of initiatives including:

The core personnel assessment research that developed accurate measures of future performance that became associated with Chally
A six-year longitudinal study of Leadership and Management development, published as Identifying and Developing Exceptional Leaders
The development of a career planning methodology that led to a repeatable workshop model, personal Job Analysis Assessment (JAA)
The identification and detail related to the Sales product-market lifecycle, for both B-B and B-C. This research included more than 400 validation studies, 400,000 individuals assessed and was the foundation for ongoing studies to date.
Chally maintains the largest world-class sales database, which includes benchmark metrics and processes of world-class sales forces identified through input from over 80,000 business decision-makers. Chally also created the largest statistical database with validation research evaluating requirements for sales, professional, and executive positions, as well as in-market and customer analyses.
"We are delighted to be where we are today, and thankful to have been able to contribute as much as we have to the Military, Government and Business communities and to the broader science of human capital management," stated Howard Stevens, Chally Chairman. "Sally and I are now focused on leaving a lasting legacy through our work with the Sales Education Foundation and ongoing Global Leadership Research Studies. We believe we have instilled the spirit of scientific curiosity, research rigor and innovation into Chally as the company moves forward."
Chally will host celebration events throughout the month of September. More information is available at http://chally.com/who-we-are/history/.
More on the Founding Partners Contributions
Through the decades the founding partners built impressive resumes. Howard Stevens is associated with his research in Leadership Development, Total Quality Sales Management (TQSalesM), Business and Productivity Analytics, and especially Sales Performance. He originated Customer Purchasing benchmarking in B2B sales, and created the original sales product lifecycle classifications.
Mr. Stevens is the author of several books (published in multiple languages) on sales and management including Achieve Sales Excellence, The Quadrant Solution and Selling the Wheel. He has been a guest on CNN, CNBC, Bloomberg USA, National Public Radio, Radio Free America and other business programs. He is a regular presenter at the Selling Power Sales Leadership Conference. His World Class Sales benchmarks program has been presented over 1000 times across 30 countries for corporations, trade associations, government agencies, and universities.
Howard is the founder of the Sales Education Foundation that supports universities who offer formal sales programs. Mr. Stevens has also taught "World Class Sales" benchmarks at the Columbia University Graduate School of Business, and served as the Chairman of the Sales Advisory Board for Ohio University and is an Honorary Alumni of Ohio U. He is also a member of both the Foundation Board and the Theatre Board of Wright State University. Besides The Chally Group, he also founded the Ohio Institute of Photography and is listed in Who's Who and many professional references.
Sally Stevens is cofounder and Vice President of Research and Development for Chally Group Worldwide. Her dual background in science and psychology has allowed her to work extensively in both professional and scientific management settings since 1965.
Ms. Stevens supervises research and development activities that have produced both the instruments and measurement methods used by Chally Group Worldwide. These efforts have produced effective profiles for a complete array of sales, management and technical positions in a variety of industries. She has also developed and presented Selection Interviewing, Career Development, and Management Development workshops for present and potential managers and executives. She developed the career planning programs for Monsanto Chemical, Sun Oil Company, and the U.S. Air Force, among others.
She initiated and directs the World Class Sales Benchmarking research which has created the largest database on sales in existence today. Sally also drives the research for the Best Companies for Leaders in cooperation with Chief Executive Magazine. This research is a collaboration of several global academic, corporate and consulting organizations.
Before joining Chally, she was a research chemist for the University of Dayton Research Institute. Most notably she produced some of the original dye laser research dyes that were used in sophisticated weapons guidance systems, as well as medical applications such as the treatment of skin lesions or scars. She has been an adjunct professor at the University of Dayton in both chemistry and management and is on the Athletic Advisory Board of the University. She volunteers her support to many non-profit organizations such as Junior Achievement and is active in many charities. She has served on the boards of the Literacy Council and PALS for Life. And she has been named one the "Outstanding Women Leaders" by the Dayton Daily News.
About Chally Group Worldwide
A global sales and leadership potential, performance and talent measurement firm, Chally Group Worldwide provides its industry-leading research, predictive analytics and advisory services to clients across 60 countries. Chally assures that our customers have the information they need to grow sales and minimize risks associated with talent management decisions relating to selection, alignment, development and succession planning. Visit http://www.chally.com or follow @ChallyGroup on Twitter.
To speak directly with Sally or Howard Stevens contact: Deb Tackett, Marketing Director 937.610.4351