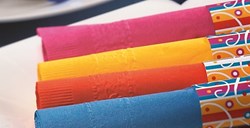 Our goal is to provide hotel managers, caterers, restaurants, wedding planners, and more with affordable disposable tableware options.
Indianapolis, IN (PRWEB) September 18, 2013
Online retailer Napkins.com has launched, specializing in disposable tabletop products and industry solutions for food service, restaurants, caterers, banquet halls, businesses, coffee stands and more.
The new web-only retailer provides customers with a diverse product line of disposable paper goods, including napkins, plates, bowls, cups, placemats, table covers, cutlery and eco-friendly items. Products are sold in bulk quantities to suit customers with professional needs, from event planners to restaurant managers.
"The Napkins.com customer might be a bakery owner, a hotel manager, a caterer or a wedding planner," said Napkins.com Marketing Manager Katie Knight. "Our goal is to provide these professionals with a one-stop online shop where they can purchase all of the disposable paper goods they need for their companies and events."
True to the retailer's name, Napkins.com specializes in providing customers with a wide variety of wholesale disposable napkins that suit the needs of casual restaurants and fine dining spots alike. The e-retailer's 1-ply and 2-ply tissues are quality and economical choices for casual restaurants and large parties.
On the higher end are Napkin.com's FashnPoint® and Linen-Like® offerings. FashnPoint® is a soft, absorbent, and beautiful napkin, while the Linen-Like® line offers elegant restaurants and upscale event planners a high quality and cost effective alternative to linen. The Linen-Like® line uses an air-laid material for premium durability, high absorbance, and an elegant appearance. Napkins.com also has a large selection of flat pack napkins and CaterWrap®pre-wrapped cutlery and napkin sets, which are economical options for restaurants of all kinds.
Napkins.com is also committed to providing customers with sustainable and eco-friendly choices through the Earth Wise® eco-friendly paper goods line. These paper-free, Tree Free® and Totally Chlorine Free (TCF) disposable goods are made from bagasse and bamboo, making them compostable and environmentally responsible choices. All of the eco-friendly products are printed with an EarthWise® message so patrons know the disposable goods are sustainable.
Napkins.com customers can expect simple navigation, easy checkout, and a helpful customer service team. "An enjoyable and easy online shopping experience was the focus as we planned and executed the creation of Napkins.com," said Knight. "We hope to fill a need in the hospitality and food service industries."
Napkins.com has plans to expand their product offerings in the near future to include custom printed products, including custom party items, logos, foil stamps, monograms and engraved items.
About Napkins.com:
Napkins.com is managed and operated by the trusted PartyPail ecommerce team and headquartered in Indianapolis, IN. Napkins.com now provides hospitality and food service professionals with a wide range of disposable tabletop products.