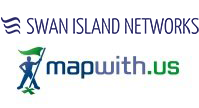 Users can quickly and reliably share valuable information with their community across desktop or mobile devices," says Orest Pilskalns, CEO of MapWith.Us.
Portland, Oregon (PRWEB) September 19, 2013
Swan Island Networks, provider of TIES® trusted information exchange platform, and MapWith.Us, provider of mobile GIS workforce solutions, today announced a partnership to bring secure data exchange and advanced information sharing to the mobile platform. The integrated solution will support mobile alert publishing, GPS tracking, situational awareness dashboards, image capture, asset visualization, and much more.
The joint solution will enable users to obtain and publish alerts in the form of photos, video, text and email from both personal computers and mobile devices.
Swan Island's TIES® is a flexible information and intelligence sharing service that provides a user-friendly suite of real-time information sharing capabilities, through a trusted cloud platform. TIES aggregates and filters disparate information sources and applications, delivering timely notification alerts and situational awareness dashboards relevant to facilities, people and concerns. TIES can be customized using a variety of real-time data sources, including emergency 911 feeds; earthquake, flood or tsunami warnings; hazardous weather alerts;
social media feeds; and other critical information. Alerting can be targeted by geo-location, proximity, keywords, and attributes such as threat type or severity.
TIES provides:

The ability to proactively monitor and identify potential threats or emergencies relevant to an organization or community
The publishing of internal alerts to staff and personnel, and the ability to send alerts to other organizations, such as law enforcement, schools, and emergency responders
Severe weather monitoring and updates to predict potential disruptions
Increased awareness and help mitigating potential cyber related risk with optional Cybero™ cyber security alerts and training
MapWith.Us Mobile provides both public and private organizations with a powerful mobile GIS workflow solution. With MapWith.Us Mobile, you can:
Collect or view data and geo-spatial intelligence using secure mobile apps available on Apple iOS and Android platforms;
Utilize offline mode with map caching to allow you to work anywhere;
Customize your mobile user interface with templates to fit your workflow and make it easy to instantly publish alerts, images and GPS coordinates;
Share your data via many supported file formats and sync data via a secure web API;
Manage check-ins and alerts to keep your work force efficient and identify their location in event of an incident
The combined mobile solution is an innovative advancement for information management software; and will provide a mapping interface capable of visualizing alerts, assets, and dashboards. Users will be able to view the present location of other users, facilities or any kind of mobile and stationary assets.
"This joint solution will allow users to utilize the full capabilities of MapWith.Us mobile services and combine it with external data sources and the TIES system to create a rich set of situational awareness capabilities. Users can quickly and reliably share that valuable information with their community across desktop or mobile devices," says Orest Pilskalns, CEO of MapWith.Us. "We are excited to be working with Swan Island to deliver these new capabilities to customers around the world."
"Integrating MapWith.us GPS tracking and mobile publishing with TIES' rich set of capabilities is a vital new service for our customers," said Charles Jennings, CEO, Swan Island Networks. "MapWith.us mobile services will extend the reach of our threat intelligence services, while also adding rich new mobile alerting and mapping capabilities. This is a great fit for both companies."
About Swan Island Networks
Swan Island Networks is a cloud security services provider specializing in intelligence solutions and cloud-based information sharing applications. Its flagship technology, TIES®, is a highly secure SaaS offering for integrating, displaying, filtering, and sharing data from hundreds of real –time and near-real-time sources. TIES is also the platform powering Swan Island Networks' Cybero™ solution for cyber security awareness, alerting and training. TIES is currently used by 20 of the Fortune 100 and more than 200 enterprises around the world. For more information, please call 503.796.7926 or visit: http://swanisland.net.
About MapWith.Us
MapWith.Us provides innovative mobile and web-based mapping solutions. MapWith.Us makes custom map creation simple and fast, offering valuable solutions for both business and consumer use. Our mobile device applications make it possible to instantly upload structured mobile content from your phone to our online maps. Share your mobile photos and more across your organization in real-time. For more information, please visit: http://www.MapWith.Us