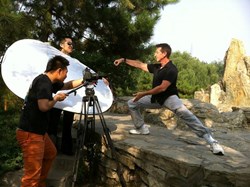 Have fun, go deep, find the Flow. It's not your Grand-dad's Tai Chi.
Newport Beach, CA (PRWEB) September 23, 2013
Equinox fitness club in Newport Beach will host a special "sneak peek" class called TaijiFit Strength on Tuesday, Sept 24 at 5:30 pm, free and open to the general public.
TaijiFit is the brainchild of David-Dorian Ross, an American Tai Chi champion and host of the PBS series Tai Chi for Health and Happiness. It is a Tai Chi-based mind/body workout that is designed for fitness clubs, community centers and corporate wellness program. Although it is a new program, TaijiFit is already being taught by more than 200 instructors across the US, Canada, China and Europe.
On September 24, Equinox Newport Beach will be holding their annual Autumnal Equinox Party. This year, TaijiFit will have an unofficial debut. Equinox members and guests - as well as non-members from the community - are invited to try out this new class, taught by its creator David-Dorian Ross.
David-Dorian and his partner, international martial arts star Jet Li, are developing programs to promote balance, health and happiness. The TaijiFit workout is one of their programs designed for the fitness environment. In particular, the class uses contemporary music, lush visual imagery and Western scientific fitness concepts to create fun and popular class that is also a fantastic workout. "It's definitely not your Grand-dad's Tai Chi!" says Ross. Ross and Li's joint venture company, TaijiZenFit LLC, has also developed other Taiji (Tai Chi)- and meditation-based programs for corporate wellness environments.
Known for luxurious design and impeccable attention to detail, Equinox is a leader in fitness innovation. Their recent new program known as Conscious Movement is a revolutionary approach to mind-body training. It has spurred a new genre of classes and workshops that bring science-based research on mental engagement, music, breath work, movement quality, community and respect to life. TaijiFit is an example of the kind of classes Equinox offers - and this class will be a sneak peek of a program that may be added early in 2014.