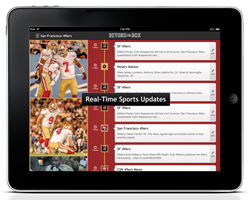 'Just like a world-class athlete, Beyond the Box makes tough things appear effortless and beautiful,' asserts Tracy Hughes, Founder and CEO of Silicon Valley Sports Ventures. 'This second screen app is a must-have for today's sports fans.'
Palo Alto, CA (PRWEB) September 19, 2013
*Download Beyond the Box 2.0 for iPad + iPad Mini*
Beyond the Box, developed by Murphy Ave. Inc and built at Stanford StartX, is a popular sports news reader app exclusively on iPad and iPad Mini that brings fans real-time coverage of their favorite teams and players to one centralized timeline.
With today's app update, Beyond the Box now showcases vibrant team photos from Instagram on team timelines. Because Beyond the Box's technology analyzes multiple sources of data across Instagram and Twitter, sports enthusiasts are intelligently served the highest quality and most relevant content in words and pictures before, after, and during a game.
Also with Version 2.0 Beyond the Box extends its real-time aggregation from the NFL, MLB, NBA, NHL, and WNBA to now cover all 12 Division 1 NCAA Conferences and 9 major soccer leagues around the globe.
Beyond the Box provides an ideal second screen and fantasy sports companion for the peak time of the sports season. The NFL and NCAA football season has just begun and many soccer leagues are now underway. Finales of the MLB and WNBA regular seasons are approaching with plenty of playoff spots still to be determined. NBA and NHL training camp and preseason games are looming.
Beautiful Timely Curated Sports Photos from Instagram
Beyond the Box curates official photos from leagues and teams, snapshots captured directly from player's smart phones, and user-generated visual creations. A testament to Instagram's continued engagement across 150M users, all NFL, MLB, NBA, NHL, WNBA, EPL, and MLS teams now have active official accounts on the service, pumping out upwards of 1,200 high quality stylized photos a day. In line with Twitter accounts, popular players have more followers on Instagram than the teams they play for (e.g., San Francisco 49ers Tight End Vernon Davis- 1M followers, official 49ers account- 433k followers). User-generated photos such as live snaps at the game are encouraged by teams with hashtags (e.g., "#warriorsground" for Golden State Warriors). Beyond the Box is the first native iPad app that enables sports fans to enjoy this diversity and quantity of timely team-relevant photos from Instagram in a single destination.
Vast Coverage of NCAA Teams and Sports
The NCAA coverage on Beyond the Box spans the ACC, Big 10, Big 12, Big East, Conference USA, IA Independents, Mid-American, Mountain West, Pac 12, SEC, Sun Belt, and WAC. It goes beyond the mainstream coverage of NCAA football and basketball by also delivering real-time updates about college baseball, hockey, soccer, volleyball, tennis, rowing, track and field, lacrosse, gymnastics, and swimming.
Around the World Soccer Coverage
When Beyond the Box was first launched last spring soccer fans lined up and passionately requested coverage of the world's most popular sport. Beyond the Box now features individual timelines for over 150 teams spanning the EPL, MLS, Bundesliga, Eredivisie, La Liga, Ligue 1, Scottish Premier, Serie A, and Super Lig.
"Just like a world-class athlete, Beyond the Box makes tough things appear effortless and beautiful," asserts Tracy Hughes, Founder and CEO of Silicon Valley Sports Ventures. "This second screen app is a must-have for today's sports fans."
The new version of the iPad and iPad Mini app with curated Instagram photos and Twitter updates of NFL, MLB, NBA, NHL, WNBA, NCAA, and Soccer teams and players is NOW LIVE in the App Store: Download Beyond the Box 2.0.
Screenshots and more info about v2.0 on the Beyond the Box Blog.
*Sign up for the Beyond the Box iPhone and Android launches*
Beyond the Box Team
The All-Star team includes Shailo Rao, Vam Makam, Varun Jandhyala, Sagar Savant, Colette Lucas-Conwell, Soham Tikekar, and Nate Parham.
StartX
Beyond the Box is housed in StartX, a community of the best startup founders out of Stanford designed, built and run by Stanford founders. The founders graduated from the accelerator program, which identifies and accelerates the development of the highest-potential Stanford founders through a 12-week immersive program emphasizing experiential education and collective intelligence.