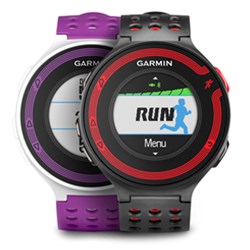 The features and capabilities of the new Garmin Forerunner 220 when paired with its ultra-lightweight, fast satellite acquisition and real-time data transfer are just about as cool as it gets
Bozeman, MT (PRWEB) September 18, 2013
Garmin Forerunner 220 was announced by Garmin yesterday as the successor to the Garmin 210 according to the Heart Rate Watch Company.
"The features and capabilities of the new Garmin Forerunner 220 when paired with its ultra-lightweight, fast satellite acquisition and real-time data transfer are just about as cool as it gets", says Rusty Squire, President of the Heart Rate Watch Company. He adds, "This watch will rock the running world hard."
FEATURES
Forerunner 220 offers a full color display screen with the sharpest data display of any watch in the industry according to Squire. "The display can be customized to reduce the number of data fields too, which is great for aging eyes," says Squire.
"Real-time data upload to Facebook or Garmin Connect allows others to see you real-time location, heart rate, pace and other data metrics", says Squire. He adds, "It is super convenient for simply transferring your data to your Smartphone post-workout, too, with no cables".
"Vibration alerts have been added to the Garmin 220 which helps eliminate the possibility of environmental noise in recognizing your alerts, which is huge, I love them", says Squire. He adds, "I've been down both roads and vibration alerts you never miss, which is what you want."
NO FOOT POD NEEDED
Thanks to accelerometer technology there is no longer a need for a foot pod to measure cadence data with either the 220 or the new Garmin Forerunner 620 according to Squire, "This is nice because you don't have to remember another part, which you can lose, or deal with the additional expense", says Squire.
"The bottomline with the new Garmin 220 is that it is a incredible running watch, with more features than any other on the market aside from the Garmin 620 and it delivers better data metrics than any other GPS running watch you will find for under $300," says Squire.
EXPERT ADVICE
"If you would like a personal consultation and expert advice then simply call us at 866-586-7129", says Squire. He adds, "We test, use and know these products cold and we give you complimentary e-books on how to successfully use them, which nobody else does."