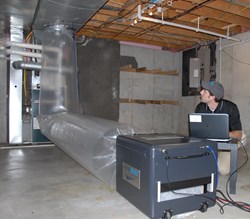 Effective duct sealing just got fast, easier and more affordable.
Centerville, OH (PRWEB) September 23, 2013
Aeroseal LLC, owner and licensee of the patented aeroseal duct sealing solution today introduced a new program that significantly lowers the barriers for HVAC businesses, duct sealing professionals and others looking to enter the potentially lucrative home energy efficiency market. The centerpiece of this program includes the introduction of HomeSeal, a next-generation aerosol duct sealing system that greatly simplifies the duct sealing process from start to finish. The program also includes a significantly lowered cost of entry and support services designed to maximize dealer success.
Aeroseal duct sealing technology has been identified by the U.S. Department of Energy, the Environmental Protection Agency and others as one of the most substantial and cost-effective solutions now available to homeowners looking to significantly reduce energy costs.
"When we install a new heating or cooling system or visit a customer for maintenance and repair, more often than not, the conversation leads to issues regarding energy savings and indoor comfort," said Doug Beiser of Hader Heating and Cooling, Cincinnati, OH. "As a licensed Aeroseal dealer, I can now offer a real energy-savings solution that sets us apart from our competitors and places our business squarely in the home energy efficiency improvement market."
The new HomeSeal duct sealing solution represents a total redesign of the current duct sealing equipment used by licensed Aeroseal dealers. The more compact model, designed specifically for residential duct sealing projects, reduces the number of components and connections used to set up the equipment. The entire assembly is now integrated into a single portable unit that makes it faster and easier then ever to set up, use and put away.
"A duct sealing project that used to take us about half a day to complete now takes about three hours with the new HomeSeal equipment," said Tim Fortunatel, lead technician, Mason Mechanical. "Less trips to the truck to get equipment, less plugs and cords to hook up and less time actually doing the sealing. And since I now spend less time with the equipment, I can spend more time with the customer – something that really pays off in the end."
With HomeSeal, Aeroseal has also reduced the initial investment needed to purchase a duct sealing system by almost 50 percent with an introductory price as low as $19,900 or as little as $418 per month. Along with supplies and accessories, the lower price of entry makes it easier than ever for dealers to add Aeroseal duct sealing to their service offerings and provides a quicker return on their initial investment. The new Aeroseal program also offers comprehensive training and ongoing support to new Aeroseal dealers for an additional cost.
Industry Trend
Over the past two years, Aeroseal has helped nearly 200 HVAC and duct-cleaning businesses nationwide enter the residential energy efficiency market. They have also helped a growing number of home performance experts and other home improvement contractors add duct sealing to their portfolio of customer services.
"The HVAC industry is evolving at an unprecedented rate and contractors have choices to make. One of them is to continue to simply sell equipment with shrinking margins, or expand their offerings to meet the needs of today's homeowners," said Tom Piscitelli, leading HVAC industry consultant. "Aeroseal duct sealing is a perfect example of a value-added service that can offer real growth opportunities. Adding Aeroseal as a component of an home performance solution or as a stand-alone remedy to comfort issues and high energy costs provide immediate benefits to the homeowner."
According to Pike Research the Energy Efficient Home Improvement market is expected to grow 7% annually, reaching $50.2 billion by 2014. This is in stark contrast to the HVAC market, which has been sluggish since 2008 and is predicted to remain relatively flat through 2015.
"I've found the Aeroseal solution to be an obvious and practical addition to the services I already offer my customers," said Jaime DiDomenico of Cool Today in Sarasota, FL. "Once I show them how much conditioned air and money they are losing from leaks in their ductwork and explain how quickly and easily Aeroseal can solve the problem, the decision to move forward is an easy one for my customers to make. The reduced price point and simplified design of the HomeSeal equipment should make it an easy decision for HVAC businesses like mine to move forward as well."
Aeroseal technology is a duct sealing solution developed at Lawrence Berkeley National Laboratory with partial funding from the U.S. Department of Energy. Aeroseal is the only residential duct sealing solution that works from inside the ductwork to seal leaks, making it easy to administer and highly effective at sealing all leaks in the ductwork, including those hidden behind walls or under insulation. Aeroseal sealant is non-toxic and has been used in hospitals, schools, apartment buildings and other facilities where health is of paramount concern.
For more information on HomeSeal or on becoming an Aeroseal dealer, visit http://www.aeroseal.com or call (937) 428-9300.