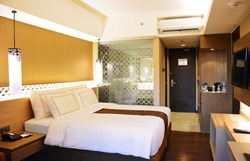 Best Western International is in Indonesia for the long-term, and we plan to form lasting relationships here, both with our guests and industry partners. Glenn de Souza, Best Western International's vice president Asia and the Middle East
BANGKOK (PRWEB) September 18, 2013
Best Western International(BWI) has unveiled plans for an extensive and fast-paced expansion across Indonesia; more than doubling its portfolio across the country by the end of 2013.
The company announced its plans at a press conference held at its new flagship hotel in Bali, the BEST WESTERN PREMIER Sunset Road Kuta— the latest of four BWI properties on the 'Island of God.'
"I am delighted to be unveiling Best Western International's Indonesian expansion at this stunning new hotel, the BEST WESTERN PREMIER Sunset Road Kuta. This fantastic property represents exactly what we are trying to do here in Indonesia, to create a range of vibrant, contemporary hotels that cater to the modern traveler," said Glenn de Souza, BWI's vice president, international operations for Asia and the Middle East.
"We are witnessing an important period in the history of Indonesia. Across the country, disposable income is rising and demand for travel is increasing. With the ASEAN Economic Community's goal of regional economic integration by 2015 and with Indonesia at its heart, this growth trajectory will only get steeper in the coming years. Best Western International is in Indonesia for the long-term, and we plan to form lasting relationships here, both with our guests and industry partners," he added.
Currently BWI has five hotels open and operational in Indonesia - one in Jakarta, one in Semarang and three in Bali. But with a pipeline of 26 hotels across the country, BWI expects to be able to offer a portfolio of at least 31 hotels by 2015, increasing its total inventory from just over 700 rooms to more than 6,000.
This expansion includes the opening of the new BEST WESTERN PREMIER Sunset Road Kuta in Bali and five more hotels in Jakarta. This includes the launch of the luxury BEST WESTERN PREMIER brand in the city, along with debut properties in many key emerging cities across the country, including Samarinda, Bogor, Pontianak and Malang.
Best Western first launched in Asia and the Middle East in 2001 and now covers 27* countries in the region. For more information on global development opportunities with Best Western International, please visit bestwesterndevelopers.com.
About the BEST WESTERN PREMIER Sunset Road Kuta
This contemporary 260 room new-build hotel is the first BEST WESTERN PREMIER in Bali. Located in the heart of Bali's foremost tourism and entertainment district, close to the beaches of Kuta and Seminyak, the hotel offers guests premium accommodations and upscale amenities. Room amenities include 32-inch LED TVs with international satellite channels, well stocked-mini bars and free Wi-Fi. The hotel's 43 suites feature a separate living room and kitchenette. In addition, the hotel has a stunning outdoor pool plus a fitness center, steam room, sauna and Jacuzzi. Guests will enjoy the hotel's on-site coffee shop, bar and restaurant featuring a menu of international and Indonesian cuisine.
# # #
ABOUT BEST WESTERN INTERNATIONAL, INC.
Best Western International, Inc., headquartered in Phoenix, Ariz., is a privately held hotel brand made up of more than 4,000* BEST WESTERN®, BEST WESTERN PLUS® and BEST WESTERN PREMIER® hotels in more than 100* countries and territories worldwide. Now celebrating 67 years of hospitality, Best Western welcomes hundreds of thousands of guests nightly. Best Western provides its hoteliers with global operational, sales, marketing and promotional support, and online and mobile booking capabilities. More than 20 million travelers are members of the brand's award-winning loyalty program Best Western Rewards®, one of the few programs in which members earn points that never expire and can be redeemed at any Best Western hotel worldwide. The brand's partnerships with AAA/CAA, race car driver Michael Waltrip, and Harley-Davidson® provide travelers with exciting ways to interact with the brand. In 2012, Best Western won a record number of awards, including AAA's Hotel Partner of the Year, CAA's Partner of the Year, TravelClick's eMarketer of the Year and Compuware's Best of the Web Gold awards.
For more information or to make a reservation, please visit bestwestern.com.
*Numbers are approximate and may fluctuate.