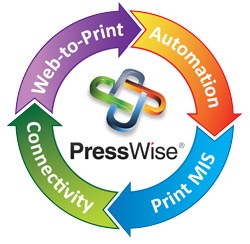 This year we saw not only a higher volume of prospects, but also much more informed ones too.
Agoura, CA (PRWEB) September 18, 2013
SmartSoft, provider of the all-in-one web-to-print, MIS and workflow automation solution PressWise, as well as postal software products such as SmartAddresser 5 and AccuMail frameworks, today announced that this year's Print 13 show was their best print tradeshow ever in terms of both on-site sales and meeting prospective customers.
They attribute this partly to the shifting emphasis from offset to digital printing, which was evidenced in the makeup of the exhibitors this year. Equally important is the growing recognition in the industry - where margins are being squeezed as print buying habits change - of the need to manage print workflows as efficiently as possible, reducing manual touches by taking advantage of the latest technologies on the market. First introduced at Print 2009, PressWise was one of the first cloud-based, software-as-a-service Print MIS products on the market, at a time when the licensed software model was dominant.
"Shows such as Print are always great for meeting new prospects and understanding the challenges they face," said Corry Casler, Director of Sales for PressWise, "but this year we saw not only a higher volume of prospects, but also much more informed ones too. The industry has started to embrace the idea of cloud for delivering MIS and other business-critical software products, and we see other companies starting to enter this market now too, which only validates our decision to provide PressWise this way."
"Typically, the sales process for a Print MIS system can take from a few weeks to a few months, since it usually involves buy-in from different groups within an organization. This year we were struck by the number of prospects who arrived at our booth having done their research, and were effectively at the show to make the purchase. It was exciting for us to meet so many people face-to-face, that we have been speaking with over the past few months, as well as the large number of existing PressWise customers in attendance."
"We exceeded any previous print show in terms of both the number of qualified prospects, as well as on-site sales. There was a tremendous buzz around the booth and we're looking to carry this momentum forward through the rest of the year and beyond, helping printers everywhere to become more efficient and profitable."
You can find out more about the PressWise web-to-print and MIS at http://www.presswise.com
About PressWise
PressWise is an end-to-end MIS Workflow Automation solution. Developed over 8 years of rigorous in-shop testing and live use, PressWise comes complete with robust features such as unlimited web-to-print storefronts, estimating, quoting, order processing, workflow management, shipping integration, fulfillment and the ability to integrate with most third party web storefronts (including PTI, PixFizz, Prisme, Pressero, PageDNA, PrintPoint, RedTie and more) and existing back-end accounting systems, including QuickBooks.
About SmartSoft
SmartSoft provides desktop and enterprise-level workflow solutions for postal address correction, postal discounts, and print management. Their products include the AccuMail® suite of address hygiene software, the all-in-one mailing software solution, SmartAddresser 5™, the IM barcode mail tracking service MailSpotter, and the end-to-end print workflow solution, PressWise. SmartSoft is a privately held company with offices in Agoura Hills, Santa Barbara, Philadelphia and Montreal. Visit http://www.smartsoftusa.com for more information.