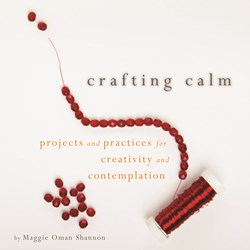 (PRWEB) September 18, 2013
Viva Editions are books that inform, enlighten, and entertain. The very name, "Viva!", is celebratory. And while Viva Editions is a line of books that are as fun as they are informational, the intention behind Viva is very serious—these are books that are truly helpful and intended to enhance people's lives. Some busy parents don't have the time to sit down and read since they are constantly caring for and ferrying their kids around from school, to soccer practice, to karate, to ballet. Spend that time driving listening to a new audiobook.
Crafting Calm: Projects and Practices for Creativity and Contemplation
Written by: Maggie Oman Shannon
Narrated by: Tiffany Williams
Length: 5 hrs and 25 mins
In this wired, wild world, it is harder than ever to shut out noise and busyness in order to truly calm yourself, but in Crafting Calm, a D.I.Y. guide to peace of mind, you'll find inspiring ideas for how to do exactly that through a wide range of creative exercises. In this audiobook, author Maggie Oman Shannon explores crafts and creativity as a practice with enormous physical, mental, and spiritual benefits.
Jump-Starting Boys: Help Your Reluctant Learner Find Success in School and Life
Written by: Pam Withers, Cynthia Gill
Narrated by: Gillian Vance
Length: 6 hrs and 49 mins
Everyone knows that boys are falling behind in education. Largely left out of the discussion are parents of boys, who are most aware that their bright, eager sons hit an invisible wall somewhere near fourth grade, after which they become disengaged, discouraged, and disaffected. There are dozens of books on underachieving boys, but most parents brave enough to lift one off the shelf are instantly intimidated by the footnotes, graphs, case studies, and academic-speak addressed almost entirely to educators.
Help! My Toddler Came Without Instructions: Practical Tips for Parenting a Happy One, Two and Three Year Old
Written by: Blythe Lipman
Narrated by: Caroline Miller
Length: 3 hrs and 48 mins
Raising children is a serious business, especially in this era of two working parents with jam-packed schedules. A helping hand can make all the difference. Nationally known parenting expert Blythe Lipman is on a mission to help parents, offering hundreds of practical tips with a dash of humor. Go from stressed-out, overwhelmed and exhausted to melt-down free and mellow!
Use Your Words: A Writing Guide for Mothers
Written by: Kate Hopper
Narrated by: Julie McKay
Length: 7 hrs and 19 mins More Book Details
Use Your Words introduces the art of creative nonfiction to women who want to give written expression to their lives as mothers. Written by award-winning teacher and writer, Kate Hopper, this book will help women find the heart of their writing, learn to use motherhood as a lens through which to write the world, and turn their motherhood stories into art. Each chapter of Use Your Words focuses on an element of craft and contains a lecture, a published essay, and writing exercises that will serve as jumping-off points for the readers' own writing.