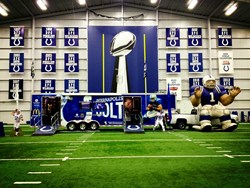 Indianapolis, Indiana (PRWEB) September 24, 2013
DirectBuy of Indianapolis are very proud to be COLTS sponsors for 2013.
In celebration DirectBuy of Indianapolis will be hosting a COLTS Fun Day on October 19th from 3:00-7:00 pm at the COLTS practice facility, 7001 West 56th Street, Indianapolis, Indiana.
This free event will include; cheerleader autographs from 4:00-6:00, the opportunity to take your picture with the Lombardi Trophy, tours of the practice facility, and some carnival fun added with games and snacks.
Some of the fun will include a photo booth by Photo Tee Pee, a bounce house and a climbing wall by Hoosier Heights.
The Colts Practice Facility, The Indiana Farm Bureau Football Center was built in 1985, shortly after the Colts moved from Baltimore to Indianapolis in 1984. The complex is home to all the Colts football operations including the practice fields (inside and outside), locker room, training room, weight room, coaching offices, classrooms and more.
In addition the complex also hosts the entire front office of the team including; ownership, sponsorship, community relations, marketing and ticket sales.
Guests to the Cots Fun Day, can also learn more about DirectBuy vendors and enter to win a free vacation.
Suppliers will be available to answer all of your questions about your upcoming remodeling project or just items that you might need for the house. Questions about flooring; wood, tile or carpet, the best products for each room and installations questions can be answered. Maybe one will be working on a kitchen remodeling project. If so, the DirectBuy Kitchen designer, Holly Denihan, will be on hand as well as suppliers for cabinetry and counter tops. Also, get great tips on how to organize ones closet and so many more topics.
DirectBuy started over forty years ago in Merrillville, Indiana with the belief that families ought to get the most savings they can our of every dollar that they spend. A family should not have to pay more for the fixtures, appliances and furniture they want. Therefore, DirectBuy offers confidential dealer prices on all of the products they offer, it's that simple.
DirectBuy saves on over 1 million products for your home and family. Members can select from over 700 top brand names in the US and 500 in Canada straight from manufacturers and their authorized suppliers.
This year DirectBuy of Indianapolis has enjoyed being a sponsor of the Indianapolis Colts, sharing in the pre season celebrations and the fun before the home games. DirectBuy has offered drawings for Colts tickets to the Broncos game and a drawing for a 60" LG LED TV and for the upcoming event for the Colts Fun Day there will be a drawing for a free vacation and a members will be available to win two tickets to the December 1st home game against the Titans.