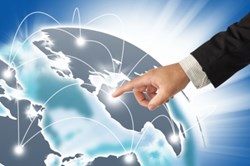 Harris Communications' new line of cell phone repeaters are in complete compliance with new FCC regulations.
Columbia, South Carolina (PRWEB) September 17, 2013
Harris Communications' is proud to announce that their new line of cell phone repeaters are in full compliance with new FCC regulations that are set to go into effect in 2014. Businesses looking to enhance their in-building cellular and wireless services can turn to Harris Communications for a customized plan that will help workers to become more productive.
Typically, wireless services, which have become indispensable to business, suffer from low signal and lack of connectivity when users are located in large, metal, concrete and stone buildings. No matter where a business is located, even when parts of a spread out campus are a bit too far from cellular towers, the enhancements that Harris Communications can provide ensures that users will always get a strong signal and be able to connect with whomever they wish to communicate with.
Harris provides an intelligent plan that will always provide enough connectivity, and is not over engineered, so that each business has the right amount of connection and bandwidth without wasting money on unnecessary enhancements to its wireless data network.
With so many people using cellular service these days, it is critical that each business be well connected and able to communicate at any given time. Fortunately, newer technologies have helped all but eliminate the dropped cell phone call, when people are inadvertently cut off from each other in mid sentence.
Items such as cell phone repeaters, also known as a bi-directional amplifier, make using cellular service effortless in any environment, regardless of how far the user may be from the cellular tower, and no matter what obstructions, man made or natural, are between the tower and the users. A cellular repeater helps deliver clean, sharp wireless phone service to all employees, to ensure that they never miss an important call, and that they are able to stay in touch with co-workers and customers, alike.
Harris Communication installs FCC and carrier-approved signal boosting equipment, including the repeater booster, which improves signal quality from multiple carriers on a single network.
Many customers wonder how much floor space a cellular repeater will cover, and the answer to that depends on a number of variables associated with each individual case. Harris Communications can evaluate each office environment, determine how strong or weak the signal is from outdoors, how much cable must be used, and other factors. Depending on the answers to these questions, a plan is made that will provide the optimum level of cellular service in that environment.
Learn more about Harris Communications by logging onto their website, at harriscommunications.net.