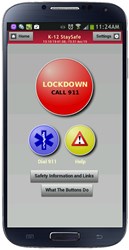 There are two keys to a successful outcome in a serious school incident – quickly notifying first responders to send help and alerting faculty and staff to take immediate action to protect students
New Canaan, Connecticut (PRWEB) September 18, 2013
DefenCall, Inc., a subsidiary of Defentect Group, Inc. (OTC Pink: DFTC), today announced the availability of a new lockdown option to its cutting-edge K-12 StaySafe smartphone panic button app solution.
The lockdown feature enables any faculty or staff member using the K-12 StaySafe app to order an emergency lockdown with the press of a button. Tapping the "lockdown" button immediately initiates a 911 call while simultaneously sending a "Lockdown Ordered" text message and email to all faculty and staff members. Alert messages can also be sent to local first responders and school resource officers. The alert messages include the name of the caller and their GPS location for greater situational awareness.
"There are two keys to a successful outcome in a serious school incident – quickly notifying first responders to send help and alerting faculty and staff to take immediate action to protect students," said James C. Ackerly, CEO of DefenCall. "The new lockdown feature of our K-12 StaySafe app allows schools the ability to do both of these things more effectively. And because K-12 StaySafe is a smartphone-based technology, it is affordable for all school districts."
K-12 StaySafe is a smartphone app that also enables panic button alerting to 911 supported by text message and email alerts to school "emergency team" members and district safety administrators for enhanced situational awareness.
For more details on the functions and benefits of smartphone panic button systems, download DefenCall's Guide to Inbound Emergency Alerting for K-12 Schools & Districts white paper. This white paper outlines what smartphone panic button apps are, how they work, and why K-12 schools and districts should consider them as part of their safety toolbox.
For more information on K-12 StaySafe, contact sales(at)defencall(dot)com or call 1 888 868 8386.
About DefenCall
DefenCall, Inc. (http://www.defencall.com) provides solutions that enhance personal security by connecting community members with first responders and support networks through smartphone technology. DefenCall's products include Campus StaySafe™, a smartphone-based mobile alerting panic button system which connects college students' smartphones directly to campus security departments, K-12 StaySafe™, an alerting system that allows classroom teachers immediate emergency "panic button" access to their administration and local police, and Healthcare StaySafe, a smartphone personal duress button app for hospitals and healthcare facilities.
DefenCall, Inc. is a subsidiary of Defentect Group, Inc. (OTC Pink: DFTC), an intelligent threat awareness firm that develops and markets IP radiation detection and sensor management systems. Defentect is committed to the discovery and deployment of advanced technologies for physical and homeland security.
SAFE HARBOR STATEMENT: This press release may contain "forward-looking statements" that are made pursuant to the "safe harbor" provisions as defined within the Private Securities Litigation Reform Act of 1995. Forward-looking statements may be identified by words including "anticipates," "believes," "intends," "estimates," and similar expressions. These statements are based upon management's current expectations as of the date of this press release. The Company cautions readers there may be events in the future that the Company is not able to accurately predict or control and the information contained in the forward-looking statements is inherently uncertain and subject to a number of risks that could cause actual results to differ materially from those indicated in the forward-looking statements. Further information on these and other potential factors that could affect the Company's financial results is included in the Company's filings with the SEC under the "Risk Factors" sections and elsewhere in those filings.