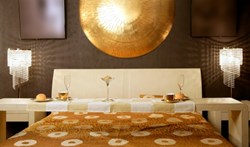 One primary consideration for achieving a successful design is to reduce the visual chaos in the room.
San Francisco, CA (PRWEB) September 18, 2013
A magnificent home design can be achieved in many ways. There have been many grand architectural styles throughout history that were created to be opulent, extravagant and palatial. Architectural design ideas this unique can only be successful if these designs meet the specific objectives for the purpose and function of the space. A magnificent home design's overall objectives would be to provide the utmost in human comfort for every member of the family at all times and to be functional as a shelter that allows the family to take care of their basic human needs. Secondary objectives to be achieved in the design are to provide areas for socializing within the family, as well as with invited guests, and to provide areas for solitary repose.
When considering the ideas for your home's interior design be clear about the purpose and function of each space. Combined with the room's purpose, every room needs to have its primary objective to be human comfort. The term "home" connotes the feeling of an oasis from the stresses of the public world. The state of a person's home has been known to influence behavior, emotions, and overall mental health. Homes also trigger self-reflection. It's important for every individual to understand what shape their personal oasis needs to take. Individuals naturally accumulate memorable artifacts from each stage of life. Typical collections may be comprised of beloved artwork, travel finds, unique antiques, or vintage décor. Pride in these collections should take center stage in the personal oasis. Creating a pleasant visual setting is a necessary element toward establishing spiritual comfort in the home. KindaChic.com, an online home furnishings and décor website, may be the source that unites this personal collection together.
One primary consideration for achieving human comfort is to reduce the visual chaos in the room. Controlling the clutter and eliminating the unnecessary furniture pieces are always the first steps towards enhancing a room's interior design. Visual chaos will also be controlled by deciding the main interior color of a space at the start of the project. Once the overall color has been established it will be easier to organize the clutter and to arrange the necessary furniture pieces that fit the room's function. The main theme of color and function go a long way towards creating a sense of repose and purpose in the interior design.
Physical comfort also depends on the ambient temperature of a room. Include in your interior design plans the appropriate window coverings that will allow the amount of natural light to be controlled as well as the amount of heat. Including natural light in a room's design can be beautiful but depending on the room's use the glare can be unwanted. Also be sure that the noises from outside and within can be dampened so that each room can be enjoyed to its fullest. Hardwood or stone floors are attractive but rugs may be needed to soften the sounds created within and that reverberate on hard surfaces. Upholstered furniture will buffer the sounds as will full length draperies. If possible, consider locating social areas such as the living, dining and family rooms alongside each other or next to other public areas. Likewise, areas for rest, repose and calm should be at an opposite end of the home.
Many furniture and décor decisions can serve a dual function if financial or spatial needs must be considered. Many interesting sofa and arm chair designs are created to function as a bed for overnight guests when spare bedrooms are not available. Area rugs are a great design decision for every room and are easier and less expensive to update than carpeting. Also, the personal oasis will be forever evolving through time and original pieces can be updated to match with new frames, new upholstery or arranged for use in a new room.