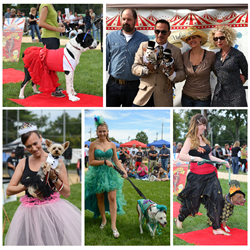 With over 750 dogs at the event, it was amazing that there was not one growl, or fur out of place today! - Courtney Brennan, spectator
New York, NY (PRWEB) September 18, 2013
Who let the dogs out? It seemed all of Morris County let their dogs out to strut their stuff in their finest fashions for the celebrity judge panel. Judges included Evan Michelson & Mike Zohn of the Science Channel's hit TV show ODDITIES, animal advocate Annemarie Lucas and star of the long running reality TV series Animal Precinct, and internationally acclaimed pet couturier Anthony Rubio. Photos courtesy of Larry Treat Photography & Joy Yagid Photography.
This event featured over 100 dogs; from shake charmers to tattooed ladies, magicians to burlesque dancers the furry fashionistas made the event "pawsitively" fantastic, and fun was had by all. Many of the dogs in the show were also from area rescues – the aim was to show them in their best light and help them find their forever home.
There were three judged categories: 1) Best Dressed Owner & Pet Duo, 2) Best Vintage Carnival Costume, 3) Most Creative Costume. Additionally, there were three cash prizes for the rescue dogs. All winners received prize baskets, filled with gifts from the show sponsors: Sent-Well.com, Wash n' Wiggle, Pup Culture Magazine, K9 Resorts Fairfield, Bubba Rose Biscuit Co, Luxe Mutt, Big Cat Coffee, Pawsitive Experience Pet Services, EKammeyer Accessories, My Limousine Inc. and JB Ranch Ohio.
More about Sent-Well: Sent-Well specializes in pet greeting cards and custom pet stationery. At Sent-Well.com, choose real cards conveniently online, and they will hand write your personal message inside, stamp and send them. Sent-Well understands the importance of thoughtfulness and believe that a handwritten note communicates in a way no text or email can.
More about Mt. Pleasant Animal Shelter: Mt. Pleasant Animal Shelter is a non-profit 501(c)(3) animal welfare organization that is 100% privately funded. Their mission is threefold: To provide exceptional care for homeless animals, to promote spaying/neutering, microchipping and humane education, and to place homeless cats and dogs in permanent, loving homes. At Mt. Pleasant Animal Shelter, no animal is ever euthanized due to lack of space.
Mt. Pleasant is located at 194 Route 10 West, East Hanover, NJ. The shelter is open for adoptions M/W/Fr 12-4pm, Tues/Thurs 12-7pm, and Sat/Sun 12-5pm. For more information, please visit http://www.njshelter.org.
More about Evan Michelson & Mike Zohn: Science Channel's ODDITIES shows us the weird world of collecting bizarre antiques, where the customers are as odd as the artifacts. Everyone and everything from the world's smallest escape artists to light bulb eaters, from two headed ducks to three legged chickens, find their way here. The show takes place at New York City's foremost destination for one-of-a-kind, bizarre and often shocking artifacts: Obscura Antiques & Oddities. The gang at Obscura, which includes owners Evan Michelson and Mike Zohn have already won over legions of viewers and inspired 'colorful' collectors throughout the U.S. The show, a hit for the network, now in its fourth season continues to expand its exclusive club of the odd and unusual subculture, group that Science Channel celebrates every day.
More about Annemaire Lucas: Annemarie Lucas has been protecting animals for over eighteen years and is known world wide as a woman who stands up for those who cannot speak for themselves. She has saved thousands of animal victims, and has brought their abusers to justice as an Animal Cop for a large Humane Organization in NYC. She starred in the long running series Animal Precinct on Animal Planet, which highlighted her work on the streets of NYC. Her tenacity and passion for protecting animals has made her a trustworthy and reliable source for animal lovers everywhere. She began her career in the animal welfare field at The Little Shelter on Long Island. Annemarie is a true animal advocate and believes that all animals deserve our compassion, and our protection, from abuse. She and her husband Danny reside in Putnam County, New York, with their many rescued cats, dogs, and their horse Tucker.
More about Anthony Rubio: Internationally acclaimed Pet Couturier Anthony Rubio's one of a kind creations have been featured on Good Morning America, TMZ, Perez Hilton, The Today Show, CBS morning show Live From The Couch, Fox's Good Day New York, CNN, USA Today, Anderson Cooper's talk show, New York Times among many others.