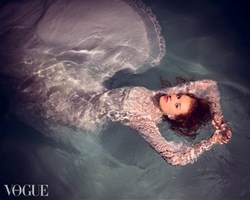 I believe that shooting film for Joseph is a passion and an art...not a job. - Robert Black, Former Owner FORD Robert Black Agency
New York, New York (PRWEB) September 19, 2013
Joseph James' dedication to his craft is beginning to pay dividends, as his brand Joseph James Artography recently got accepted to be published online in VOGUE Italia. It is a very exciting time for James and his crew at JJA, as they are also taking part in the magazine's 'New Exposure' competition. Meanwhile, James and his team still find time to support the community. On September 13th JJA held a wine tasting at their studio in Tempe, AZ to support the ongoing efforts of the Arizona-based nonprofit, Butterfly House.
A United States Army Veteran and philanthropist, James has donated his time and energy to many organizations including American Youth Football (AYF) and Butterfly House, a women's shelter for victims of extreme domestic violence. The recent wine tasting was a success, with exclusive wines being sold and JJA photo shoots being raffled with proceeds benefiting the Butterfly House, and this same compassion is equally apparent when James is behind the camera lens. "I believe that shooting film for Joseph is a passion and an art... not a job," says Robert Black, former owner FORD Robert Black Agency.
Having worked various fashion shows, location shoots, and film projects all over the United States, JJA will continue its eastern expansion into New York and neighboring cities in the coming months, as the brand's portfolio extends abroad in the European market. With studios across the country and visual works of art that are beginning to receive international attention, it's safe to say that Joseph James' pursuit of the perfect shot means that VOGUE Italia is only the beginning for the JJA brand.
About Joseph James Artography: Joseph James Artography (JJA) provides hands on service and years of industry experience to their clients. The studio located in Tempe, AZ is fully equipped to capture their client's unique vision and manage projects of all capacity and diversity from start to finish. The staff at JJA believes in creating a culture of comfort and fun while helping the client create not only the images they seek but the memories to go along with them.