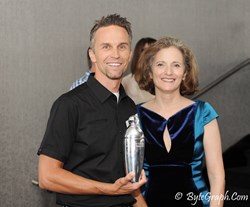 Ford exemplifies the embrace of networking and transparent media creation both as a marketing and communications initiative, and a means of changing how large enterprises use data, manage strategically, serve customers and develop products," notes Carey.
Atlanta, GA (PRWEB) September 18, 2013
Social Media Today honored Ford Motor Company with the First Social Enterprise Shaker Award during the Social Shake-Up Conference at the W Midtown Hotel in Atlanta, September 15-17. Robin Frey Carey, CEO of Social Media Today presented the prestigious award to Dirk Shaw, WPP/Ogilvy Global Team Ford during closing ceremonies on September 17.
The Shaker Award recognizes achievements of a single company to adapt to the opportunities and challenges presented by the social/mobile/cloud revolution. According to Carey, Ford Motor Company exemplifies the embrace of networking and transparent media creation not only as a marketing and communications initiative, but also as a means of changing the ways that large enterprises use data, manage strategically, serve customers and develop products.
"The steering committee for Social Shake-Up, made up of leading B2B and B2C marketing and technology experts, overwhelmingly chose Ford for this year's first Shaker award. Ford has demonstrated a long-term and consistent commitment to the very early principals of best social media practices," notes Carey. "Unity of vision from top leadership in communications and marketing catapulted Ford's social efforts from pilot projects to major operational initiatives."
Ford earned the Shaker distinction because of its use of an internal "news room," 20 people strong, its open agency partnerships; innovative cooperation with influencers both offline and online; and responsible and comprehensive creation of relevant content have made it a model for companies around the world seeking closer customer relationships in a socially-connected world.
"Social has become the common ground between communications, marketing, customer service, IT, product development and more at Ford," said Scott Monty from Ford's global digital communications team. "It has given us the ability to understand consumers better and more quickly than ever and to integrate what we've learned into our business processes, allowing us to make the fuel efficient, technologically advanced cars and trucks that people want and value."
About the Social Shake-Up
Hosted by Social Media Today, the web's best source for social media thought leadership since 2007, the Social Shake-Up conference is a celebration of how social media practitioners are creating exciting new ways to connect people within and outside the enterprise - customers, employees, managers and leaders. The event explores how companies and people are shaking up traditional organizations and communication channels to create a brand new form of business: the Social Enterprise. The inaugural conference attracted over 500 attendees and featured keynotes from social media luminaries like Brian Solis, Porter Gale and Liza Landsman. Because of the conference's success, Social Media Today is bringing the Social Shake-Up back to Atlanta in 2014. Stay tuned for dates and details. For more information about Social Media Today visit: http://www.socialmediatoday.com.
# # #