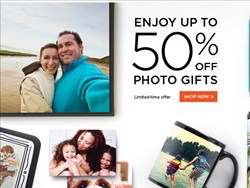 Los Angeles, CA (PRWEB) September 18, 2013
BluePromoCode.com announced today it has published a special consumer guide on finding deals at Shutterfly.
Shutterfly is a web service that allows customers to personalize gifts for their friends and family. Their popularity is reflected in their net revenues which the company expects to reach $280 million in 2013.
In order to help consumers prepare for the holidays and make the most of their shopping at Shutterfly, BluePromoCode has published a guide that will help them save money and maximize their spending potential. Some tips include how to get free prints and how to maximize the rewards program.
The full guide can be found on the BluePromoCode blog. along with the latest coupons and deals.
About BluePromoCode.com
BluePromoCode is a leading coupon search engine used by millions of consumers to help them save the most money on their purchases. The website partners with 12,000 retailers to bring over 100,000 coupons to its users and its editors hand-check coupon codes to ensure the highest quality ones rise to the top. BluePromoCode also offers personalized emails so members can receive the best deals for the brands they love directly in their inbox. Learn more at bluepromocode.com.