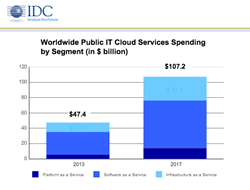 The emergence of cloud as the core for new 'business as a service' offerings will accelerate cloud adoption and dramatically raise the cloud model's strategic value. IDC Senior Vice President and Senior Analyst Frank Gens
UK (PRWEB UK) 18 September 2013
London: Worldwide spending on public IT cloud services will reach $47.4 billion in 2013 and is expected to be more than $107 billion in 2017, according to a new forecast from International Data Corporation (IDC).
In addition, IDC heralded the beginning of a new phase for cloud services, dubbed Chapter Two, in which the scale of cloud adoption will grow significantly. Driving much of this activity is the aging of IT infrastructure at many organisations. Systems are becoming so complex and costly that organisations are desperate for an alternative solution.
IDC Senior Vice President and Senior Analyst Frank Gens commented in a recent article, "The emergence of cloud as the core for new 'business as a service' offerings will accelerate cloud adoption and dramatically raise the cloud model's strategic value. Much of the growth in cloud services is being driven by the increase in deployment options, Gens says.
"The growing richness of these options is a clear accelerator for overall cloud services adoption. The emergence of virtual private cloud (VPC) offerings has helped to shift momentum from dedicated private cloud offerings toward public cloud offerings."
Gens believes many of the objections that customers have previously held about privacy and control issues with cloud computing are now being addressed. In addition, increased competition among cloud service providers will serve to help lower prices and expand service offerings to the customer.
Google, which makes the vast majority of its revenue from advertising and search, is now increasing investment in its enterprise business to meet business needs, and global demand continues to increase. Although Google does not break down its enterprise revenue separately, it's believed to account for approximately five percent of its overall business. Nikesh Arora, Senior Vice President and Chief Business Officer at Google described enterprise as "another great revenue stream for Google".
Google has experienced accelerated growth in cloud adoption. In 2009 three million businesses used Google's cloud offering, Google Apps. Now, in 2013, Google estimates the number of businesses using its cloud offering to be over five million. In addition, according to Arora, more than half of fortune 500 companies are paying for Google Enterprise products.
About Google Apps
Google Apps is a cloud-based productivity suite that helps individuals and teams connect and get work done from anywhere on any device. It's simple to set up, use and manage, allowing organisations to work smarter and focus on what really matters. The Google Apps suite includes, Gmail, Drive, Calendar, Sites, Hangouts and more for £33 per user per year. Licenses for Google Apps for Education and Google Apps for Non-Profits are free.
About AppsCare
AppsCare has a dedicated, specialist team of engineers and change management experts to manage and support the growing number of Google Apps customers. AppsCare was one of the first globally to be recognised as a Google Enterprise Premier Partner, a top tier partner level reserved for only the foremost experts in Google Enterprise solutions, partners that consistently demonstrate unparalleled levels of technical expertise and customer success. With more than 2500 customers in 30 countries AppsCare are passionate about helping its customers innovate, reduce the cost and complexity of IT operations and safely migrate from on-premise to Google Apps.
Follow @AppsCare