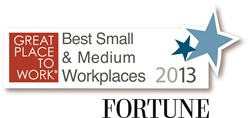 San Francisco, CA (PRWEB) September 20, 2013
Great Place to Work® recognized AnswerLab for having one of the best workplaces in the United States on their annual 2013 Best Small & Medium Workplaces list. Winners of the recognition were published today in FORTUNE magazine. Ranked #16, this is the second consecutive year AnswerLab has received this honor. Divided into two categories, Small (50-250 employees) and Medium (251-999 employees), the list has recognized companies with exceptional workplace cultures for the past ten years.
AnswerLab, one of the nation's leading user experience research firms, was selected among hundreds of companies competing for a place on the list this year. The rigorous selection process included an employee survey and an in-depth questionnaire about benefits programs and company practices. Great Place to Work® evaluates each application using its unique methodology based on five dimensions: credibility, respect, fairness, pride and camaraderie.
In compiling the list, Great Place to Work has found that employees believe they work for great organizations when they consistently trust the people they work for, have pride in what they do and enjoy the people they work with.
"While we offer attractive benefits to our team like flex time, telecommuting, a technology stipend, and professional development programs, AnswerLab's employees and the culture of mutual respect they have built for one another is what truly makes our company a great place to work," said Amy Buckner Chowdhry, AnswerLab CEO. "Together, we work hard to recruit people who will embrace our culture of innovation and positive participation."
AnswerLab places a great deal of emphasis on promoting a set of 7 core values that are the backbone of the company's culture. Employees actively participated in defining those values, and there are regular public acknowledgments to team members who model those on the company's social network and in quarterly meetings. Because the company's success depends on retaining the best consulting talent, AnswerLab's leadership also strives to create an ecosystem of opportunities for employees. AnswerLab has a holistic talent program that promotes Career, Learning, Wellness, and Impact. This includes a 3-week immersive onboarding program called AnswerLab University, frequent learning lunches, a regular peer and management review process for promotion, gym subsidies, and an employee-led philanthropic program that includes company-sponsored projects and time for individual employee volunteer activities.
"The companies appearing on our Best Small & Medium Workplaces list help us achieve our mission by presenting others with an example to emulate. These companies demonstrate that being an excellent employer leads to business success," said Robert Levering, CEO and Co-founder of Great Place to Work®. "While these companies may be relatively small in headcount, many of them provide services to some of the country's largest and most notable organizations, suggesting that success has not so much to do with size as with the quality of service and experience a company provides. A great workplace, full of great employees, is better equipped to achieve that success."
Organizations named on the list see many benefits that include better financial performance, less employee turnover, higher levels of customer satisfaction and loyalty, more innovative and creative thinking, higher productivity and enhanced public perception.
To see the 2013 Great Place to Work Best Small & Medium Workplaces list and to learn more about how to build a high-trust workplace culture, visit http://www.greatplacetowork.com or to learn more about AnswerLab, visit http://www.answerlab.com.
About AnswerLab
AnswerLab delivers trusted customer experience insights that help the world's leading brands build outstanding digital products and services. The company focuses exclusively on user experience research to understand what people see, do, think and feel when using web sites, mobile applications, and other digital products. AnswerLab's clients depend on their recommendations about product concepts, features, design and messaging to create more engaging customer experiences that drive results. Global market leaders select AnswerLab as their user experience research partner, including Amazon.com, PayPal, Walmart, Honda, Citibank, Conde Nast, FedEx, Genentech, eBay, Salesforce.com, Amgen, Intuit and Harley Davidson.
If you would like more information on this topic or to schedule an interview please contact pr(at)answerlab(dot)com, (415) 814-9916.
About Great Place to Work
Great Place to Work® is a global consulting and management training firm specializing in workplace excellence and development of high-trust organizational cultures. Its proprietary research tool, the Trust Index© Employee Survey is taken by over 10 million employees in 45 countries annually. Leading companies worldwide apply its Model® to increase the levels of trust across their organizations and drive business results. Annually, Great Place to Work® produces the annual FORTUNE 100 Best Companies to Work For® list and the Great Place to Work® Best Small and Medium Workplaces list. Follow Great Place to Work® on Twitter at @GPTW_US.
About Fortune
Fortune is a global business magazine that has been revered in its content and credibility since 1930. Published biweekly, every issue is completely saturated with profoundly deep and extensively detailed analyses of the entire field of business, including specific companies, tendencies, prominent people, and new ideas that are characterizing the modern world. Fortune magazine is particularly well-known for its exceptionally reliable annual rankings of companies. Examples of these highly researched features are the "Fortune 500," which ranks the world's companies by gross revenue, and the "Best Companies to Work For," both of which have become industry benchmarks. This publication furthers understanding of the economy, provides implementable business strategy, and maximizes ability to make objective decisions. Fortune magazine is prized in its category of magazines and has been proven a reliable source of integral knowledge.