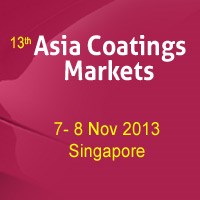 The marine coatings market is poised to witness steady growth fuelled by robust development in shipbuilding, offshore engineering industry and petrochemical sectors.
Singapore (PRWEB) September 24, 2013
13th Asia Coatings Markets, in Singapore on 7-8 November 2013, is designed to explore key trends in the region's paints and coatings market including – progress in Asia Pacific decorative coatings market that outperformed its global counterparts – both in volume and value; the growing construction industry in China, India, Indonesia, the Philippines and Vietnam that has propelled the demand for decorative paints and coatings; the vast opportunities for coatings producers with the emergence of shopping malls, hotels and other infrastructure projects in the ASEAN countries, especially Myanmar. In addition, this regional event also examines the marine coatings market that is poised to witness steady growth fuelled by robust development in shipbuilding, offshore engineering industry and petrochemical sectors.
According to Frost & Sullivan's Asia-Pacific Marine Coatings Market Outlook report, the market is worth US$4.84 billion in 2012 and estimates this to reach US$6.69 billion in 2016. A focused marine coatings presentation will be delivered by the Managing Director of Chugoku Paints (India) Pvt. Ltd. – Mr. Krishan Lal Batra. He shares his views on the 'Trends and Challenges Governing the Marine Coatings Landscape' with a review of Asia's marine coatings sector; the key health and environmental awareness as well as provide a price and market review of crude and bunker fuel. He discusses the future of the marine coatings sector while focusing on the upcoming regulations that will impact the future landscape for marine coatings. Mr. Chris de Lavigne, Global VP, Industrial Practices, Frost & Sullivan will provide an overview on 'High Growth Sectors Driving Asia's Paints and Coatings Market,' providing insights on macroeconomic and demand growth analysis of key Asian markets; the trends in the decorative, protective, industrial and marine sectors; optimising distribution channels and pricing models for effective market segmentation.
A specially tailored joint session, 'Latest Building Designs Provide Boost to Asia's Coatings Industry' seeks to discuss the emerging buildings trends in Asia. Mr. Russell Cole, Principal, Arup (Singapore) and Mr. Tiyok Prosetyoadi, Director, PDW Architects, will update the audience on regional regulations governing facade design of buildings, emerging building trends and their impact on Asia's coatings demand, Asian region driving the green building movement and the challenges in incorporating "green" facade designs. In addition, a session by Mr. Eko Rudianto, Advisor to Board of Directors, PT. Toyota Motor Manufacturing Indonesia (TMMIN), informs the audience on how the Robust Automotive Market is driving Coatings Growth including insights on Automotive Market growth in ASEAN, Customer color spectrum trend, Image of Auto Coating process, QCDM requirements for linking with Auto Industry process and Example Implementation of current & future Coating process.
Also, contributing as speaker at the event is Mr. Roland Glotzer, President, Arkema Chemicals India, who will share insights on 'Strategies to Manage Raw Material Price Increases' with a focus on India. He will review the coatings industry in India – its present and future, the structure and strategies of the resin industry in the world and in India, cost drivers and pricing, raw materials, purchasing strategy in an Indian environment, and share his observances on the competitive landscape of the coating resins in India. In his overview of the 'Outlook for TiO2: Further Consolidation in the Works?' Mr. Laurence Wang, Senior Consultant, China Titanium International provides global demand and supply analysis of the existing capacities, new capacities, pricing and margins. He will also touch upon the TiO2 feedstock review focus on the new TiO2 capacities in China and their impact on the global supply balance.
Other prominent companies speaking at the event include: The Valspar (Singapore) Corporation, TOA Paint Co., Nippon Paint (India), Shanghai Partners Co., Eason Paint Public Co., TIGER Coatings, Innov-Coat, Okeo Furniture and more.
Among those expected to participate as delegates are C-level executives, Marketing Managers, Product Managers, Project Managers, Sales Managers, Technical/R&D Managers from Paint & Coating Manufacturers, Traders, Raw Material Producers/ Traders, Consultants, Chemicals & Additives Suppliers/Technology Providers/ End-users, et al.
For more information about 13th Asia Coatings Markets, please visit the official website.