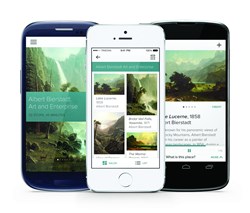 Ottawa / Tel Aviv (PRWEB UK) 20 September 2013
Acoustiguide Mobile is the latest and most advanced development from Espro Acoustiguide and Tristan Interactive. Acoustiguide Mobile is a complete solution for authoring and distributing multilingual, feature-rich, and visually stunning multimedia tours on modern mobile devices, including iOS and Android handsets and tablets. Cost-effective, innovative, and proven, Acoustiguide Mobile is based on the collective experience of developing over 100 custom projects for top-tier museum clients.
The Acoustiguide Mobile cloud-hosted content management system allows one to independently author content, giving them complete control over its delivery. Acoustiguide Mobile native apps can be updated, published, and deployed on iOS, Android, and mobile web within minutes.
Features include:

Combining audio, video, images, slideshows, text and more to create engaging interpretation.
Augmented Reality, QR codes, and image recognition.
Intuitive way-finding with interactive floor plans and GPS-enabled maps.
Social networking support, including Facebook, Twitter, Pinterest, Flickr, Instagram.
Each application can be themed and branded, creating a unique look and feel.
Support for multiple languages within a single application.
VoiceOver, closed captioning, large text and other assistive technologies.
Ability to stream content or cache to work offline, without a Wi-Fi or cellular connection.
Espro Acoustiguide, a market leader in multimedia guides and interpretation systems, creative content and technology solutions for museums, cultural and heritage industries, announced earlier this year its acquisition of Canadian-based Tristan Interactive, a leading design and technology company and the largest developer of custom museum-oriented apps and websites. Espro Acoustiguide and Tristan began their partnership in 2011, when they jointly launched the official app for the Musée du Louvre in Paris. Current clients include the Guggenheim Museum in New York, Museum of Contemporary Art Australia, the Smithsonian Institution, the Art Gallery of Ontario and more.
acoustiguidemobile.com
tristaninteractive.com
acoustiguide.com