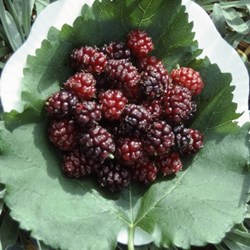 English Woodlands' special offer on unusual fruit tree commences 18th September, and will be available for customers until midnight on Thursday 31st October.
(PRWEB UK) 19 September 2013
The 'grow-your-own' phenomenon has been hailed as one of the more enduring trends of the decade. Sparked during the recession, when the British pound was weak, the cost of commodity items was rising and general cost of living high, many Brits have turned to growing their own. Whether herbs, fruit or vegetables, home grown produce has never been so fashionable.
Back in 2011, the Telegraph reported the rising grow-your-own trend over the previous few years as reminiscent of the craze for small holdings, started by the 1970s TV series the Good Life. There's no doubt well known gardeners like Alan Titchmarsh, and celebrity chefs like Jamie Oliver have contributed to the rise in home grown produce. This year the Telegraph recently reported in an article the 'Top Trends for 2013', that the self-sufficiency trend is one that is set to continue with more people than ever relying on their gardens to yield fresh food, but the idea goes beyond austerity. Home owners are excited about being able to grow what they want to eat.
Michael Hardcastle, MD of the English Woodlands business agrees the grow-your-own trend is here to stay. "Sales of our core fruit trees including apples, pears, cherries and plums have all shown double digit growth over the last two years. Anecdotal evidence we hear from our customers is that growing your own is no longer just a novelty, but is now firmly entrenched as a regular routine for many households. We are also experiencing demand for more of our unusual fruit trees and to help encourage experimentation, we are offering 20% off this autumn on some fantastic varieties."
English Woodlands' special offer on unusual fruit tree commences 18th September, and will be available for customers until midnight on Thursday 31st October. Customers looking to buy online can use the discount code FRUITPLUS at the checkout to obtain their savings of 20%. Customers visiting the nursery need only mention the discount code to the English Woodlands team to have 20% discounted off their fruit tree purchase. The unusual fruit trees included in the promotion are the Nottingham Medlar. An attractive, small tree with small russet fruit edible when from October onwards, great for jellies and jams. The Quince Vranja, one of the UK's most popular Quince varieties, another excellent fruit for jellies. The Mulberry whose dark-red, large and succulent fruits' intense flavour makes them a great addition to vanilla ice cream! The Broadview Walnut, the Brown Turkey Fig and the Filbert Nut are some other interesting varieties to try. The full range available for 20% off can be found in English Woodlands promotional pages.
English Woodlands are a privately owned company dating back to 1919 and occupy a beautiful 12 acre site in the wooded Sussex Weald. Private and trade customers have been visiting the popular nursery to browse a comprehensive selection of large trees, conifers and shrubs available all year round in containers. As a large tree specialist, English Woodlands have earned their reputation for high quality long lasting plants and trees, exceptional customer service and careful delivery. Visit the website today at http://www.ewburrownursery.co.uk/ to browse the range or pop into the Nursery open Monday to Saturdays, find directions to English Woodlands online.