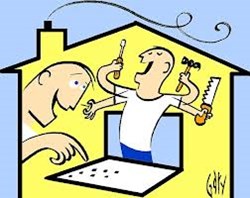 Surrey (PRWEB UK) 20 September 2013
KCS has been writing DIY advice articles since November 2012. All these articles are now available on a the website http://www.kettyle.com. We all have the few odd DIY jobs around the home that need fixing and with more and more people moving towards DIY, there is a shortage of good quality free information on dealing with common problems; this is where kettyle.com comes in. We provide a wealth of DIY related information. Author Patrick Kettyle said, "Having spent 38 years involved in construction projects I wanted to provide a resource of my knowledge for everyone to share." The website has features on how to tackle the usual DIY challenges, but also includes advice on subjects like planning and the legal aspects of property development, whilst offering free downloads of building contracts and construction guides. Personal DIY advice is available via email, and the website's forum is available for people to interact on all DIY subjects. The site even offers to publish articles written by readers themselves. In a new initiative, http://www.kettyle.com has now broadened its appeal further, whilst continuing to captivate its existing fans. The website now publishes articles focussing on an extensive range of 'sustainability' related themes going well beyond the traditional topics that readers expect to find on a DIY advice site.
Informative articles on subjects appealing to anyone, including children, interested in topics like 'geothermal energy' and 'how to grow mushrooms at home', now appear alongside the previous favourites such as 'roofing advice' and are proving popular. How many other DIY advice sites, for example, explain the mathematics involved in designing a soakaway for rainwater, provide guidance on how to build an orangery, whilst at the same time delivering scientific features describing how wind energy originating far out at sea is transmitted through ocean waves to power stations on land.
To access this mine of information: http://www.kettyle.com.