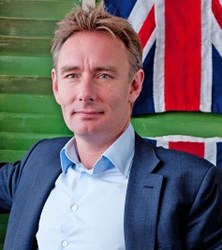 For the small business owner, Facebook tops the list with Google Plus running very closely behind!
London (PRWEB UK) 18 September 2013
Just over a third of business owners in the UK are choosing Google Plus as a social media platform over LinkedIn according to a recent survey by XLN Business Services.
XLN's survey of 549 entrepreneurs showed when asked "Which social media platforms do you use to promote your business" almost half of small business owners use Facebook (44.2 percent), but Google Plus came in a close second with 33.7 percent and LinkedIn fell behind in third place at 29.5 percent.
Within the last year, social networks have opened their doors to small business owners to help them benefit from larger social media audiences. Even with its late start against other social networks, Google Plus is becoming ever more popular and this year launched Places for Business which ranks businesses in Google search results and widens their audience.
"Our research shows that Google Plus and Places for Business has won over the small business owner when it comes to social networking," said Christian Nellemann, CEO of XLN Business Services. "This comes as a surprise, as most would think of LinkedIn as the number 1 choice for business networking. However, XLN have shown for the small business owner, Facebook tops the list with Google Plus running very closely behind!"
For more details and interviews, please contact:
Nadine Bourne, PR & Content Manager on 02077935940
----
About XLN Group
XLN is the small business specialist. XLN Ltd. was founded by Christian Nellemann in 2002 as XLN Telecom. It is located in London, United Kingdom and supplies business phone lines and business broadband to more than 130,000 customers. Deregulation of the UK Telecom's industry enabled XLN to offer an alternative phone service to BT™ at a considerably lower cost.
XLN's founder and CEO was first recognised as Ernst & Young's Entrepreneur of the Year in 2006 for Technology and Communication, winning again in 2010. XLN has also been a National Business Awards Finalist for 5 years: 2004, 2005, 2006, 2009, 2010 and 2012.
In 2007 and 2008, XLN was ranked on the Sunday Times Tech Track 100 survey of the 100 fastest growing technology companies in the UK and in 2011 and 2012 was listed as in the Sunday Times Buyout Track 100. IN 2010 and 2011 XLN also won British Venture Capital Association (BVCA) awards for 'Best Private Equity Backed Management Team.'
More details at: http://www.xln.co.uk.