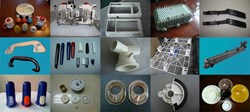 (PRWEB) September 18, 2013
The renowned injection molding company Wuxi Glory Plastics has recently showcased over 100 new products and technologies at the APPLAS 2013 show; the new designs and technologies have attracted many overseas customers. Today, the company launches a special offer on all its plastic caps, EIFS fasteners, auto parts, plastic bottles and more.
When companies have a requirement or high volume, intricate parts, they should use plastic injection molding, which provides a high level of production while minimizing the cost per unit. With much experience in the industry, Wuxi Glory Plastics has been a leader in injection molding and blow molding.
The CEO of the company says, "We are excited to launch the promotion to show appreciation to the customers from the APPLAS 2013. Our new designs are the option to mold parts in high temperature, medical grade resins, giving manufacturers the ability to produce parts for medical devices and high performance applications."
Wuxi Glory Plastics' skilled and technologies insure the customers get the quality, price and delivery required without the problems of dealing with offshore suppliers. They work with each individual customer and use the best material available for each application.
Wuxi Glory Plastics is a China based enterprise which deals in supplying high end plastic products. It works through its site interface plastics-molding.com. The company offers high caliber items at reasonable costs and this is the reason it has secured the rank of being an industry guide.
For more details about our products and services please visit: http://www.plastics-molding.com/