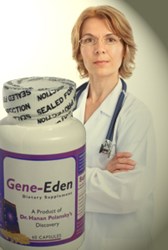 Most sellers of dietary supplements don't conduct clinical studies of any sort to test the effectiveness of their products. polyDNA is different. - Mike Evans, polyDNA
Rochester, NY (PRWEB) September 22, 2013
A doctor in Wales may be responsible for infecting people with Hepatitis C (1). polyDNA suggests that these individuals and others who may be infected with HCV consider using Gene-Eden-VIR, a natural remedy against latent HCV. This natural product was designed to help the immune system target the latent Hepatitis C Virus.
Most people don't think about a Hepatitis C infection until years later when they begin to show symptoms. However, thousands of women across Great Britain must begin thinking about it after "it was discovered that the retired (doctor) unknowingly had the virus while employed by the NHS for decades (1)."
In fact, "It is known the healthcare worker infected two patients with the virus while working at a hospital in Wales, Public Health England (PHE) said. At least 3,000 former patients are being contacted by letter informing them of the risk and a series of confidential help-lines and a support service have been set up. Several hundred patients in other areas of Wales who may have come into contact with the health worker are also being contacted. In England around 400 former patients are being contacted, while urgent steps are being taken to check historic patient records in Scotland and Northern Ireland (1)."
"Those patients identified as exposed or possibly exposed to Hepatitis C are being sent individual letters and asked to call a special confidential helpline, inviting them to attend a hospital clinic or, if they have moved away from the area, their GP for a blood test." said a Public Health England (PHE) spokesman (1)."
polyDNA would like to recommend Gene-Eden-VIR to British subjects diagnosed with HCV. This recommendation is based on the results of a new clinical study published on August 21, 2013 in the journal Pharmacology & Pharmacy. The study reports that the natural product Gene-Eden-VIR safely and effectively decreases symptoms in individuals infected with the Hepatitis C virus (HCV) (2). Specifically, the study authors wrote that "We observed a statistically significant decrease in the severity, duration, and frequency of symptoms (2)."
Mike Evans of polyDNA said, "Most doctors know that there are dietary supplements out there in the marketplace that claim to reduce viral symptoms. However, most sellers of dietary supplements don't conduct clinical studies of any sort to test the effectiveness of their products. polyDNA is different. Testing the effectiveness of natural products through rigorous, scientific studies is part of our mission. In fact, we aim to develop natural products that are as effective as drugs."
To view the entire paper on Gene-Eden-VIR, visit: http://www.scirp.org/journal/PaperInformation.aspx?PaperID=36101.
To learn more about Gene-Eden-VIR, visit: http://gene-eden-kill-virus.com/.
We invite doctors to contact us with their questions at: info(at)buy-gene-eden(dot)com or phone 585-250-9999.
###
References:
(1) http://www.telegraph.co.uk/health/healthnews/10302481/Major-Hepatitis-C-alert-gynaecologist-could-have-infected-thousands-of-women.html
(2) http://www.scirp.org/journal/PaperInformation.aspx?PaperID=36101
polyDNA is a biotechnology company that develops dietary supplements using the unique scientific method developed by Dr. Hanan Polansky, which is based on Computer Intuition.
In addition to his unique scientific method, Dr. Polansky published the highly acclaimed scientific discovery, called Microcompetition with Foreign DNA. The discovery explains how foreign DNA fragments, and specifically, DNA of latent viruses, cause most major diseases.
polyDNA developed Gene-Eden-VIR, an antiviral natural remedy that helps the immune system kill latent viruses.