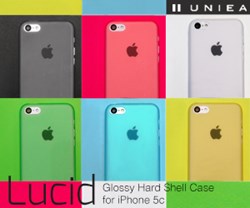 Transform your new iPhone into a new color with UNIEA's cases that even Apple couldn't dream up.
USA (PRWEB) September 19, 2013
Universal Electronic Accessories ("UNIEA"), a leading designer and manufacturer of innovative electronic accessories, has officially released a wide range of new case designs for Apple's iPhone 5s and iPhone 5c. All of the new designs are being offered in two distinct shapes for both the iPhone 5c and iPhone 5c models.
UNIEA has ensured that the new iPhone 5s designs complement the iPhone 5s's bold, new features, such as the Touch I.D. fingerprint scanner on the home button and exciting, new color options. For the iPhone 5c, the new designs give users the chance to convert their smartphone into any color they'd like, depending on their style or mood for that day.
The following series are being offered for both the iPhone 5s and iPhone 5c:
UNIEA LUCID Series Cases for the iPhone 5s and iPhone 5c
The LUCID case design for the iPhone 5s and 5c features a unique translucent polycarbonate plastic shell that allows the Apple logo and form factor to show through, while adding modern color and smooth texture to the iPhone 5s and 5c. Because the LUCID comes in a variety of colors, users can combine different color options with the iPhone to achieve subtle design colors that look unlike anything else on the market. Custom cut-outs for buttons and features, as well as a thin, light profile make this a minimalist, next-generation case for the world's most cutting-edge smartphones.
Best of all, the LUCID cases come in a 2-pack, giving users two case shells for the price of one. LUCID 2-pack iPhone 5c/5s cases retail at uniea.com for $22.95
UNIEA PatternLab Cases for the iPhone 5s and iPhone 5c
The new PatternLab line-up from UNIEA offers fresh, pop-inspired graphics patterns on thin yet protective shell cases that allow users to instantly transform their iPhone 5s or 5c into a mobile device that really expresses their own personal style. The PatternLab cases are organized in four series – Stars, Hearts, Stripes, and Dots – with each of these series inducing several cool, eye-popping designs. The graphics are printed onto strong ABS plastic shell cases using a special IMD printing application. Together with a glossy UV coating, the graphics on these cases stay looking fresh and new, even after heavy use.
All UNIEA PatternLab iPhone 5s/5c cases retail at uniea.com for just $24.95.
Prestige Premium Leather Folio Case for iPhone 5s and iPhone 5c
UNIEA has a long tradition of crafting leather-based cases for the world's most popular gadgets. They are continuing that tradition with the new Prestige Premium Leather Folio case, which transforms both the 5S and 5C into a stylish, feature-rich mobile hotspot, complete with a sharp magnetic, two-button buckle that secures the folio cover and gives the case a stylish, "finished" look, a scratch-free inner lining, and six designer colors in premium PU leather that comes imported direct from Italy.
UNIEA Prestige Premium Leather Folio cases retail for $34.95 at uniea.com
U-Motion Runner Series iPhone 5s and iPhone 5c Armband
The U-Motion Runner Series from UNIEA is one of the company's hottest designs, and it is returning once again for both the iPhone 5s and 5c! This lightweight, neoprene armband stays securely fastened to the user's upper-arm via a secure Velcro strap. The iPhone stays safe in an enclosed pouch with a plastic, push-through cover. Users with active lifestyles can listen to music and control their iPhone via Siri with the U-Motion Runner series.
UNIEA's U-Motion Runner Series Armband for the iPhone 5s/5c retails at uniea.com for just $24.95!
Be sure to check out the wide range of UNIEA iPhone 5c cases and iPhone 5s cases at uniea.com!